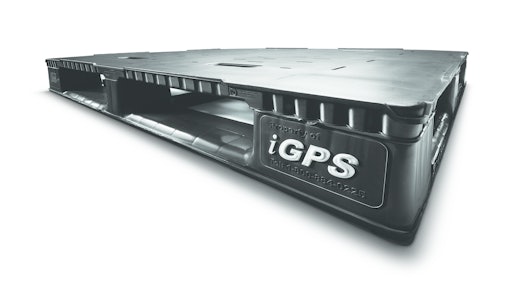 Companies now more than ever are aware of their environmental impact and are making an effort to reduce waste, improve saving and increase overall efficiency. IPC, iGPS, CHEP, ORBIS and Rehrig have all concentrated their focus on sustainable pallets and packages.
Insulated Products Corp (IPC) made the decision to focus on a green product because "the consumer demanded it," said Charles Veiseh, president of IPC. IPC specializes in cold/frozen pallets and cartons. IPC took advantage of that market niche and created a product that, according to Veiseh, is more effective at temperature control yet doesn't use the more conventional polystyrene. Polystyrene is not an environmentally friendly product. Polystyrene is made from petroleum, is non-renewable and is not biodegradable. Moreover, it is inflexible when it comes to managing storage.
IPC's temperature control bag uses a reflective foil that keeps products cool using an insulated liner, whereas polystyrene is "strictly a heat insulator." IPC's main products, the GreenLiner and CooLiner, are green, affordable and offer an alternative to traditional polystyrene.
IPC uses soft panel to insulate their bags so they are easier to ship and store. Furthermore, after the CooLiner has fulfilled its use, it can then be turned into secondary packaging and become "recycled lumber or food trays," adds Veiseh.
IPC has high hopes for their company in terms of cold sensitive freight. They are optimistic that their CooLiner Pallet Covers will be used in conjunction with dry trucking as a means to eliminate the "more expensive refrigerated shipping in its entirety" and "potentially result in tens of thousand[s] of dollars saved in shipping costs," says Veiseh, who points out that dry trucks are considerably more fuel efficient and 'greener' than refrigerated trucks.
Rehrig, unlike IPC, doesn't solely market itself as a 'green' product. Nonetheless, it is a sustainable and ecofriendly product. Rehrig admits that much of the driving force behind its sustainable development of pallets and containers is creating solutions that maximize customers' return on investment.
According to Van Nguyen of Artime (the firm responsible for Rehrig's marketing), the true green attributes of Rehrig's products are in how the pallets are used. For example, Rehrig's products increase sustainability?by aiding in the reduction of spoilage and shrink. They eliminate "the burden placed on the environment by one-way packaging and pallets; and reducing the number of trucks on the road all while helping to increase product safety," explains Nguyen.
Rehrig, apart from maximizing ROI, has invested time developing a "more durable design, by minimizing wasted diesel fuel and space in the truck, and by meeting GMA Block Pallet performance with a sub 50-lb plastic pallet that is exactly 48x40x5.6 inches over the course of its entire life."
Rehrig also uses the latest in polyolefin resins to ensure durability. "Rehrig will collaborate with the leading resin and additive manufactures to develop specific grades for a [particular] application. And if discussed, that application can be made of 100 percent composted recyclable polyethylene or polypropylene. Additives like a specific color or fire retardants are "non-halogenated, non-toxic and also 100 percent recyclable."
Many green and sustainable solutions often coincide with ways to fix fiscal and logistical problems. Companies want to save money and pass those savings on to the consumer through an ecologically sound product. ORBIS' Life Cycle Assessment Tool, which helps generates quantifiable, measurable sustainability data, is one such example.
ORBIS manufactures reusable plastic containers and pallets that improve and assist workflow along the supply chain. Each plastic container can be fully recycled after it has fulfilled its use. ORBIS also calculates solid waste, greenhouse gas emissions and energy usage that impact their packaging. They are also able to minimize their carbon footprint by fully understanding and calculating their environmental output.
One unique aspect to ORBIS is that they have created a program to calculate and make sustainable decisions based on quantifiable environmental data. ORBIS' Life Cycle Assessment Tool provides quantifiable data, which will detail a company's environmental impact. Heather Markovich, public relations executive with ORBIS, mentions that engineering teams compile this data and the outcome will examine "carbon emissions, energy, and solid waste generated on a relative basis from their data and assumptions, and the opportunities for improvement."
Another feature of ORBIS' pallets is that they are hygienic. Their plastic pallets are non-porous and can be easily cleaned and disinfected. They have an open-deck flow through design, which minimizes areas "for contaminants to collect" and makes cleaning easier and supports sanitary conditions throughout the food supply chain.
CHEP is another company that incorporates sustainable practices in developing and maintaining their wooden pallets. David Deal, senior director of marketing, is aware that "retailers frequently instruct their buyers to give preference to suppliers that use products made of renewable resources." The use of renewable wood is part of their sustainable strategy.
Deal states that a benefit to wooden pallets is that repair is much simpler than in plastic pallets. "The right kind of wooden pallet enables repair of a single component that may become damaged rather than require an entire pallet to become scrapped when damaged." The wood used as a replacement can come from reclaimed sources, further enhancing the sustainability aspect.
CHEP controls "the sourcing of all its lumber and has the publically stated goal of sourcing 100 percent of lumber from certified sources by 2015. In addition, CHEP uses a heat-treatment process for pallets that is required to meet international ISPM 15 standards, rather than the chemical treatment alternative," adds Deal.
On a corporate level, CHEP uses a Life Cycle analysis as part of its sustainability program. This analysis calculates the total environmental impact CHEP actually produces on a yearly basis. This study is conducted by a third party—Franklin Associates—which looks at various elements that impact the environment, such as solid waste, total energy usage, and greenhouse gas emissions, to help CHEP make more informed decisions around sustainability.
Innovation and sustainability go hand in hand in maximizing product efficiency. Lewis Taffer from iGPS says that Intelligent Global Pooling System's pallet fits into this category. The iGPS system is 100 percent recyclable. According to Taffer, "It's the highest form of sustainability, called 'cradle-to-cradle.' Contrast this with wood pallets, which require a constant cycle of felling trees and landfilling broken pallets."
iGPS is one of the sustainable leaders in their business segment and on the vanguard of innovation and sustainable design. The company describes itself as the world's "first and only pallet rental service to provide light- weight platforms with embedded RFID technology for tracking shipments." These pallets have been adapted by some of the country's most ecologically friendly companies and because they are 35 percent lighter than tradi- tional wood pallets, they also lighten a truck's load. This lighter pallet can add up to a total reduction of between 500 to 2,200 lbs. per truckload compared to traditional wooden pallets, which in turn reduces fuel burn and greenhouse gas emissions.
Companies moving toward sustainable practices are definitely seeing a return on their investment, reduction in overall costs and increased efficiency. Whether plastic or wood pallets, the decision to 'going green' is well worth the effort.