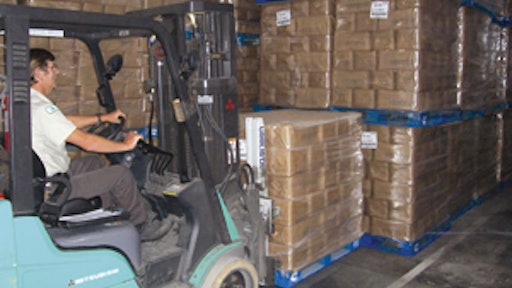 Whether the goal is securing a competitive advantage, or maximizing shareholder value, virtually all companies today are seeking ways to reduce logistics costs. Their efforts can take many forms, as these cast studies show.
In two of the examples, a manufacturer, United Sugars, and an organic foods distributor, United Natural Foods Inc., have turned to outsourcing to enable their operations to provide superior service at a contained cost.
The other case study, describing Procter & Gamble's use of real-time forecasting, shows how the global manufacturing giant is decreasing logistics costs by going straight to the source: by minimizing the volume of inventory needed in its supply chain to support sales, through improved forecast accuracy.
P&G's project demonstrates the continuing opportunities available to apply ever more sophisticated information technology to problems like supply chain design and management, thanks to Moore's Law.
"We really couldn't have done 10 years ago what we're doing today. Then it would have been cost-prohibitive, because you would have needed a whole server farm to handle all the calculations required daily," comments Robert Byrne, president, Terra Technology, which developed the real-time forecasting tool now being rolled out by P&G worldwide.
In their utilization of third-party logistics, United Sugars' and UNFI's cases illustrate some of the latest evolution in partnerships between 3PLs and clients. In both examples, very tight integration between the principals and their logistics providers, achieved through a combination of close personal collaboration and supporting IT architectures, is enabling these food companies to reap expanded benefits from outsourcing.
By treating their third-party logistics partners as integral parts of their distribution organizations, both companies are enhancing customer service and holding the line on costs, while maintaining or increasing their flexibility and agility—and, at the same time––allowing management to concentrate on growing their businesses by focusing on their core strengths.
Real-Time Forecasting Delivers For P&G
As a leader in reducing supply chain costs, Procter & Gamble already enjoys highly efficient logistics operations. To further economize, the company recently looked in a different direction, in effect, straight to the source, by implementing a new Real Time Forecasting solution from Norwalk, CT-based Terra Technology.
This expert system augments and improves traditional demand planning programs by combining real-time data with advanced mathematics to cut forecast error dramatically.
Piloting the program in Western Europe last year, the CPG giant reports it reduced forecast error by over 30 percent. This translated into a better than 10 percent reduction in inventory.
"When you reduce forecast error, there are three things you can do: reduce inventory, improve service levels, or smooth out your production planning or supply chain operation. We said we're satisfied with our service levels and operational costs, so we'll take our savings in inventory," says Mark Kremblewski, global business expert in demand planning with P&G.
Terra's RTF system is not a forecasting solution per se. Rather it is a "black box" piece of software that takes existing forecast information from the demand plan, combines it with other real-time data like daily shipments and orders, and applies complex pattern recognition algorithms and other formulas to create forecasts on a daily basis for every product at the line item level. The program automatically updates these forecasts daily based on real-time data on orders and shipments as they continually flow into the system. Once the demand plan is created and sent to the RTF module, virtually no human interaction is required.
The system does not affect all inventory components equally, but can have dramatic effects on what is generally the biggest component, daily turn inventory.
"Forecast error is typically considered to account for something like 90 percent of safety stock. If you plan your supply chain using the forecast to set inventory targets, over a zero-to-28-day horizon, I'd say you'll at a minimum reduce inventory by 10 percent. Looking at actual pilot results in some supply chains, we've actually seen examples much higher than that," Kremblewski says.
Byrne notes that Campbell Soup Co., also using the system, has reduced safety stock by 50 percent on average.
The system is intended to forecast near-term demand over a maximum 13-week period. Among its key benefits is that it not only forecasts aggregated demand, but also discrete demand for any number of days out within the extended period. The improved visibility into demand at this level allows companies to react swiftly to changing market signals. Not only can dollars tied up in inventory reduced. Companies should also see marked improvements in order fill rations, promotional coverage, out-of-date-code product, inventory redeployments and emergency changes in production runs, along with reductions in all the associated warehousing and logistics costs.
Already live in one business segment in western Europe, P&G is on the verge of rolling the RTF system out in another very large segment in the U.S. and Canada, and soon after that to additional business segments in Europe.
United Sugars Gets Sweet On Outsourcing
How do you turn a commodity into a high-value product, balance the disparate requirements of industrial customers with retail markets and accommodate erratic demand patterns for your products with a level of flexibility and responsiveness that makes you a preferred supplier-––all at a competitive price?
United Sugars, a cooperative that is the nation's second largest sugar producer, works closely with a network of 3PL partners to accomplish this trick.
"Ours is a very erratic business. Based on prior history, we might be planning on shipping 20 trucks a day, then suddenly discover we need 10 more. It takes a particular kind of flexibility in warehousing and logistics to handle this sort of uneven flow," observes Ray Smith, facilities and quality systems director for United Sugars.
Logistics partners like Saddle Creek Corp., which handles warehousing and inbound transportation for United Sugars' consumer and industrial granulated packaged products in the Southeast, provide such flexibility in ways that would be difficult to reproduce internally, at least not cost-effectively.
With minimal storage capacity at its plants and no warehouse space of its own, United Sugars' production, especially during its busy harvesting season, must be shipped off daily to 3PL partners like Saddle Creek, who manage inventory and prepare and ship orders for customers.
With its large campus facility, Saddle Creek has sufficient capacity to absorb United Sugars' sharp fluctuations in supply and demand.
"This allows us to keep a tighter hold on inventory than we otherwise could, letting us operate in something approaching a just-in-time fashion," Price notes.
Similarly, Saddle Creek's labor pool, shared across its customer base, can be balanced against different clients' needs.
"We're able to staff for the averages, then shift personnel around to deal with the fluctuations so United Sugars isn't carrying any dead cost," points out Mark Harrell, facilities manager at Saddle Creek's Lakeland, FL, operation.
In addition to handling a mix of product types ranging from 50- and 100-pound bags for industrial customers, to two-, four-, five- and 10-pound bags for the consumer retail market, Saddle Creek deals with a number of individualized customer requirements on its client's behalf like specialized labeling and stamping and other customized services.
In the retail market, private label business multiplies the number of SKUs handled. On the industrial side, product packaging is typically generic but customers often require special handling such as having product packed in trays, or application of custom pallet labels to match the end-user's inventory processes.
Another requirement for the industrial market is detailed lot tracking, with reference to a long list of highly specialized product characteristics that are captured at the time of production. A manufacturer may specify strict tolerances for granulation or color in a sugar it orders, for example, or require product that was produced no earlier than a given date. Saddle Creek's personnel need to be able to access such detailed lot information and use it to insure they select product for each customer only from lots that meet all of a particular customer's often highly exacting and particular specifications.
Close coordination with United Sugars, through both personal communications and IT support, enable Saddle Creek to perform these specialized services as a seamless extension of its client's operation.
Through an internet portal United Sugars set up, for example, Saddle Creek personnel can access the producer's lot tracking system to determine which specific lots should be pulled to meet the specifications for an order.
Similarly, Saddle Creek has an internet portal where customers like United Sugars can access its warehouse management system to monitor all activity related to their orders and shipments.
Orders and other transactional data flow automatically between the two companies' enterprise systems. Any special handling instructions required by United Sugars' customers are incorporated in the electronic order transmissions.
Flexibility, good communication, and a focus on solutions are the keys, according to Price, that make the relationship with Saddle Creek and its other logistics providers work so well.
These qualities have been enhanced in the past few years by United Sugars' creation of a Warehouse Council, which pulls representatives from all its contract warehouses together to share ideas, identify issues or problems, and collaborate on ways to solve them.
"Each of these companies has vast experience across a range of businesses. Since their operations typically don't overlap geographically, they've been able to come together and discuss issues and ideas openly," Price says. The program has enabled United Sugars to draw ideas for logistical improvements from a pool of knowledge and experience that is both deep and wide.
"We've been able to identify areas for improvement and root causes of problems, as well as opportunities, that have led to big benefits across our network, from enhanced customer service to lower costs and increased flexibility. Through the program, we've been able to identify and adopt a host of best practices."
The Council typically meets once or twice a year for two to three days at a time, including field trips. Last year, for example, the group visited the Saddle Creek facility and toured a sugar plant. In between there are phone contacts.
"From a third-party perspective, you're always wondering what other 3PLs are doing," Saddle Creek's Harrell comments. "United Sugars has taken this group and truly created a partnership that allows us to share information with each other, knowledge, and even sales leads."
Bottom line, Price adds, "The program has resulted in better service to customers, reductions in customer complaints and fewer rejections, which obviously also translates into lower costs. It's been a real win-win all around.