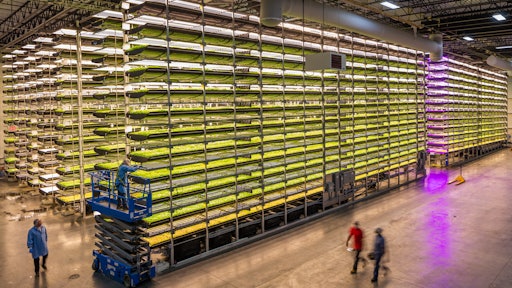 AeroFarms
AeroFarms broke ground on its second commercial indoor vertical farm in Danville-Pittsylvania County, Va. The 136,000-square-foot site is said to be the world's largest and most technologically advanced aeroponic indoor vertical farm.
"The science, technology and innovation that underpin our platform allows us to drive superior unit economics and scale up our business to deliver on our mission of growing the best plants possible for the betterment of humanity," says David Rosenberg, co-founder and CEO of AeroFarms. "Our customers love our leafy greens, which consistently win on quality, flavor, taste and texture. We are excited to break ground on our new farm, expand our retail presence in the region and bring our exceptional, great tasting products to more customers."
Strategically located in close proximity to more than 1,000 food retailers in the region, the new farm will advance AeroFarms' leadership in plant science and technology and expand its leafy greens business to the Mid-Atlantic region with brick-and-mortar retail and e-commerce partners.
From BusinessWire:
The Danville farm will feature AeroFarms' proprietary agSTACK technology, creating a fully connected and digitally controlled farm that integrates hardware, automation, intelligent controls and sensors, machine learning, machine vision, supervisory control and data acquisition (SCADA) and manufacturing execution systems to create a powerful data loop.

By collecting and analyzing data through its 26 crop turns per year, AeroFarms' team of engineers, plant scientists and programmers gather insights about plants and apply these learnings for the continuous improvement of its farms.
"Danville-Pittsylvania County is the perfect location to introduce our next-generation Model 5 farm that will be able to serve the more than 1,000 food retailers in the region. Our new farm will deepen our established retailer partnerships even further and make our sustainably grown, pesticide-free and always fresh leafy greens available throughout the Mid-Atlantic region, while also creating high-quality jobs in the area. This new facility represents an inflection point in our growth trajectory as we scale our technology and expand our retail distribution footprint and customer reach," Rosenberg adds.