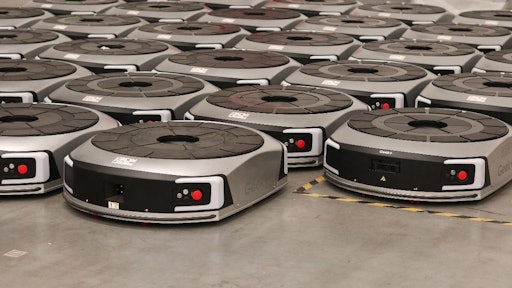 Geek+
Online grocer myEnso works with Geek+, who recently garnered government support and funding, to implement 30 autonomous mobile robots (AMRs) and a goods-to-person solution. The robots are tasked with transporting racks of purchased goods to human-operated workstations from the storage area. The solution taps real-time data to help with fluctuations in demand. 
Per PR Newswire: 
AI and intelligent software will enable myEnso to streamline operations by organizing its inventory according to real-time demand. With automatic self-charging capabilities, and 24/7 automated operations, Geek+ will support myEnso to better manage peak periods fluctuating demand.
By implementing Geek+'s smart robotics solutions, myEnso will have an intelligent and scalable solution to meet customer expectations for faster order fulfillment and a more diverse product offering, shaping the future of Germany's grocery market.