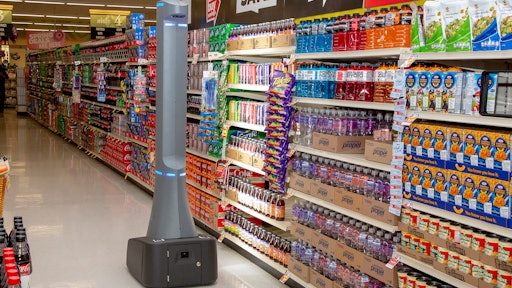 Badger Technologies
2020 is a year for the record books, marked by massive disruption and unprecedented turmoil. It's also a year of accelerated innovation as many businesses, especially those involved in various aspects of the food business, have advanced their automation efforts to transform shopping and operational experiences while keeping both consumers and employees safe.
There's a lot learned from the Coronavirus disease (COVID-19) being applied to the next year's plans. To aid in the 2021 process, here are 10 predictions driving the increased momentum of autonomous robots in the grocery environment.
1) Expect robots to pinpoint exact product locations
Autonomous robots took on more expansive roles in stores and warehouses during the pandemic, which is expected to gain momentum in 2021. Data-collecting robots shared real-time inventory updates and accurate product location data with mobile shopping apps, online order pickers and curbside pickup services along with in-store shoppers and employees. In large retail environments with hundreds of thousands of items, the ability to pinpoint products is a major productivity booster/timesaver.
2) Multipurpose robots measure up as mavens of multitasking
Autonomous robots can easily handle different duties, often referred to as "payloads," which are programmed to address varying requirements, including but not limited to, inventory management, hazard detection, security checks, surface disinfectants, etc. In the future, retailers will have increased options for mixing/matching automated workflows to meet specific operational needs.
3) COVID-19 proved there's a limited supply in the world
Major re-stock runs and a surge in online shopping quickly depleted shelf inventory, especially during the run-on paper products early in the pandemic. Ensuring adequate supplies of "high flyers" requires integration of shelf-level data with backroom, warehouse and supply chain information. To avoid visible holes on shelves, retailers will increase the use of robotics to correlate inventory data with point of sale, warehouse management and order management systems.
4) Independent, regional grocers adopt robots with increased agility and speed
Most grocers test any technology they bring into their stores before widespread deployments. In 2020, independents increased their deployments of in-store robots while larger entities scaled back. Not only do independent, regional grocers have greater freedom and agility to trial new technologies, but they're also keen to automate wherever possible.
5) Issues with labor shortages will continue
As the labor market continues to tighten, retailers increasingly will look for ways to automate previously manual, mundane tasks. Multipurpose robots shine when it comes to oft-dreaded shelf scans, performing scans in hours instead of days and with up to 95% accuracy. Let's face it, no employee wants to perform mind-numbing, tedious tasks, so let the robots do it—they'll never get bored or distracted.
6) Data-driven insights necessitate seamless integration
The more comfortable retailers become with autonomous robots roaming store aisles safely alongside shoppers and employees, the faster they can redirect attention to what matters most—the ability to elevate customer satisfaction while increasing store revenue and profitability. To accomplish this, however, retailers need to connect the dots between shelf-scanning results and corresponding department, category, vendor, sell-through and pricing data.
7) Planogram compliance goes beyond outside surveys and visualizations
Another area where increased data collection and evaluation is warranted is the analysis and audits of end caps. Instead of relying on handshake agreements as well as the use of outside surveys and basic visualizations, data-collecting robots can share real-time updates by retail store, category and CPG management. Having critical trending data improves forecasting, replenishment prioritization and management of vendors with frequent stock issues.
8) Sensors, drones and fixed cameras become the ideal robot accessory
In 2021, it's highly likely that autonomous robots will be teamed with other in-store technologies, such as fixed cameras, drones and all types of sensors to enhance data-collection capabilities. It's all about attaining real-time visibility, especially in those hard-to-reach, hard-to-see places. A bevy of sensors will enhance a robot's "sensing" abilities, including detection of certain gases emitted when foods lose freshness or are stored improperly.
9) 5G will have a profound impact
Investments—of substantial size—in the latest wireless technology are going to pay off in many aspects of retail as it promises to unleash new experiences. Mega-trending 5G is poised to deliver unheralded speed and bandwidth to ensure shared visibility of retail data without impacting other in-store network operations. Expect 5G to go from pilot to production phase throughout the retail industry.
10) The M&A scene will remain active
An increased frequency of mergers and acquisitions in the grocery sector will remain in the forecast.