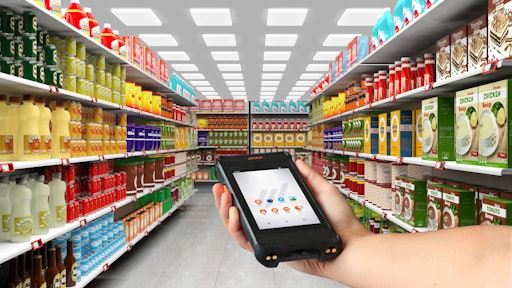 ACD USA
ACD USA's M2Smart is a new, modularly structured manual terminal with various attachable modules that can be connected using an insert/slide mechanism. That means a specific solution module is possible for each and every customer problem, erasing all limits on creativity and flexibility.
The new patented solution together with the modularity and standard interfaces make numerous attachable modules possible, including handles, RFID readers, printers, distance sensors, temperature modules, 1D/2D long-range scanners and different keyboard variants. The attachable modules mentioned here as well as other modules can also be adapted and implemented for specific customer requirements. Currently keyboard variant M2Key16 ACD as well as temperature module M2Temperature ACD for measuring core and surface temperatures are already optionally available. The individual modules can be exchanged at any time without a tool using the insert/slide mechanisms, thus allowing for highly efficient, economical and flexible work, on the sales floor, in incoming goods, in the warehouse, and also in production areas. This new modularity, currently unique on the market, makes it possible to configure customer-specific modules for all daily business requirements. End customers of ACD can already look forward today to many additional creative solution modules that will make daily work even more efficient and contribute towards successfully covering all process steps with just one basic device – even in different areas.
Why Android Industrial+?
The Android Industrial+ operating system offers numerous advantages, including modern user guidance familiar to users of Android smartphones, together with the high quality of the German manufacturer.
Unlike all competitors, who often use products from Asian manufacturers, this Android version can be selectively adapted to customer needs at any time. The German developer and manufacturer likewise ensure long-term supply capability and thus a high level of investment reliability. Hardware components that require fundamental adjustments to the operating system can also be integrated. Easy app programming means customers can use the terminal in different processes. ACD also takes responsibility for support, incorporates security updates, and provides assistance with troubleshooting as well as rapid response to security gaps. The advantage of communicating directly with a German manufacturer is unique on the market and greatly reduces complications.
The underlying hardware
The hardware behind the M2Smart ACD is also visible: The basic device with sturdy main housing and 4.8-inch capacitive display was developed internally by ACD Elektronik GmbH. An integrated quick-change lithium-ion battery ensures long operating times free of interruptions and can also be changed during ongoing operation. Excellent technical performance is ensured by a high-performance Qualcomm Snapdragon™ processor, an integrated 2D scanner and a camera with illumination. Optionally available today, in addition to various modules including keyboards and temperature sensors, are WLAN to IEEE 802.11a/b/g/n, BT-compatible close-range radio as well as a docking station, the DS2Smart ACD.
Scanning up to 12 meters with the Mobile Terminal M260TE with Android Industrial+ and 2D long-range scanner 
The M260TE mobile terminal from ACD Elektronik GmbH will now also be available in the Android Industrial+ version with an optional 2D long-range scanner.  
Powerful 2D long-range scanner with enormous range further simplifies work processes in the warehouse. The 2D long-range scanner, integrated into the handle, reads all commonly used 1D and 2D barcodes. With this enormous range, it enables simple and reliable code reading directly from the forklift truck. With the addition of this new scanner version to the product portfolio, all commonly used scanner variants (1D, 2D, 1D long-range and 2D long-range) will be available to customers in the future, regardless of whether they are using an Android or Windows device from ACD.  
Nothing has changed in the familiar advantages of the M260TE: The handheld device, which is ideally suited for scanning-intensive activities, is equipped with a powerful NXP processor to ensure maximum productivity in mobile applications. The M260TE with Android also features impressively simple user navigation while the modern operating system with its familiar operating environment ensures a high level of employee satisfaction. An integrated rechargeable battery for long battery runtimes and high-quality scanners in the commonly used variants ensure fast, efficient and error-free work in industrial environments.  
All in all, the M260TE remains the optimum assistant for all warehouse and logistics processes and allows for easy, efficient and modern work, even in the harshest of environments.
Mobile Workstation MAX: Mobilize warehouse IT and improve labor productivity
The MAX Mobile Workstation is ideally suited for flexible data collection and independent work in the warehouse environment, including logistics, receiving area, cross docking, shipping, manufacturing, food processing, quality control and inventory control functions throughout your facilities, allowing printing on-the-go and eliminating wasted footsteps.
Now with the manufacturing assembly operation in Wood Dale, Ill., the MAX Mobile Workstations can be built to your customized specifications, improving your operations with quick ROI.  Independent from the main electrical supply, the user can document incoming goods in the IT system directly at the point of delivery. The advantages include minimized back and forth walking, the ability to store goods faster, and fewer stationary workstations. In addition, a cold store/freezer version is available for low cold storage temperatures -28C (-18F).
The extremely robust design and flexible modular system with a wide range of options ensure a process-optimized workstation that is tailored to your specific requirements.
The standard (STD) version of the MAX mobile workstation features two maintenance-free 12 V/60 Ah gel batteries and 230 V/350 VA voltage transformer. This enables the operation of portable devices such as PCs, terminals, screens, scanners and label or laser printers. To achieve higher performance, the mobile workstation MAX is available with 800 VA or 1500 VA versions with lithium-ion phosphate battery, and one for refrigerated storage areas are also available.