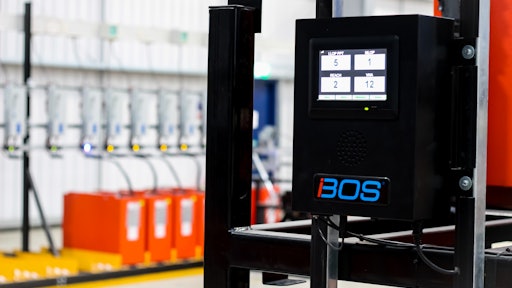 Philadelphia Scientific
Most warehouse and DC battery fleets have too many batteries.
The best way to solve these two common problems is to stop guessing how many batteries to purchase. Instead, measure your battery room's performance and know how many batteries you need.
Philadelphia Scientific has introduced iBOSWorld 2.0, enhancements to iBOSWorld Web Service. The new features make it easier for you to identify conditions in the battery room that require intervention, enabling you to maximize your battery investment.
The enhancements to the web service include:
· Readability. Site has been upgraded with easier-to-read fonts and graphs.
· Site navigation. Enables users to more easily select and view reports in the date range of interest -- days, weeks or months.
· Global export. Enables users to more efficiently export data for a single facility or for multiple warehouses or DCs.
· False pick detection. Indicates when an operator has attempted to override the system's battery rotation direction, which decreases battery performance.
· Mis-pick graphs. Graphs can now be viewed by the individual pool of batteries or all pools combined in one graph to analyze operator compliance system-wide.
Philadelphia Scientific also debuted the iBOS Charger-Splitter, which makes it possible to maximize charger capacity while halving the number of chargers needed.
Using Charger-Splitters allows sequencing one charger for two batteries manually, put simply, you can charge two batteries with one charger. It works by a bright white light LED on the iBOS Sentinal indicating to operators that they need to unplug the charger from one battery and switch it onto the other.
As the Charger-Splitter is a module available with an iBOS System, meaning that not only do you get this easy to use charger sequencer, you also get the added benefits that come along with our iBOS battery management system. Our iBOS systems are the industry standard intelligent battery organizing systems, the Charger-Splitter works alongside it, providing an additional method of significantly improving your battery room ROI.
Easy-to-understand alerts are displayed on both the unit and on a remote operations display, so battery room operators and managers know exactly when a charger needs splitting.