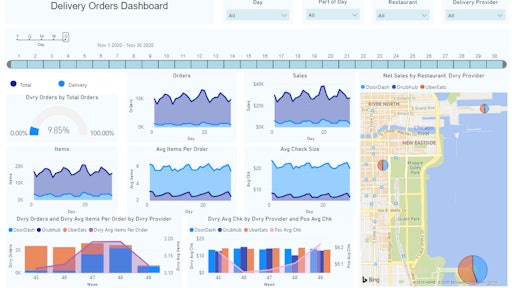 Wavicle Data Solutions
Wavicle Data Solutions, a leading provider of data and analytics solutions and services, announced the launch of ActiveDeliver, a food delivery analytics solution that provides restaurants with dashboard intelligence on their complete food delivery lifecycle. ActiveDeliver gives operators at large restaurant groups and quick-service restaurants (QSRs) new levels of insight and decision-making control for their third-party or in-house food delivery operations.
ActiveDeliver arms restaurants with comprehensive analytics to track, measure and visualize variables such as staffing levels, menu inventory, delivery timing, financials and customer feedback to optimize food delivery performance.
"The restaurant industry is extremely competitive. With the astronomical popularity of food delivery, restaurants are grappling with making their food delivery operation profitable while meeting consumer expectations of quality and speed," says Duane Lyons, Wavicle's national restaurant practice area Lead. "ActiveDeliver's sophisticated data analytics capabilities help restaurants achieve efficiency and growth while building a loyal customer base."
ActiveDeliver pulls data from multiple on-premises and cloud sources to provide restaurant groups and QSRs a single view of specific food delivery metrics such as:
●       Length of time a driver waits in a restaurant for food items to be prepared.
●        Length of time from when a driver receives an order until the customer receives their food.
●        Incremental revenue generated by food delivery.
●        Whether incremental revenue generates new customers that ultimately purchase via other channels, such as in-restaurant and drive-thru.
●        Whether specific menu items drive lower customer satisfaction or longer delivery times via third-party food delivery.
ActiveDeliver also serves a variety of operational metrics that support more than just third-party delivery, including:
●        Sales metrics highlighting total sales for in-store, drive-thru and delivery.
●        Delivery metrics that offer insights into route time, fulfillment time and more.
●        Customer analytics that deliver sales data by new vs. existing customers, satisfaction and more.
●        Food delivery fees paid by operators and by customers.