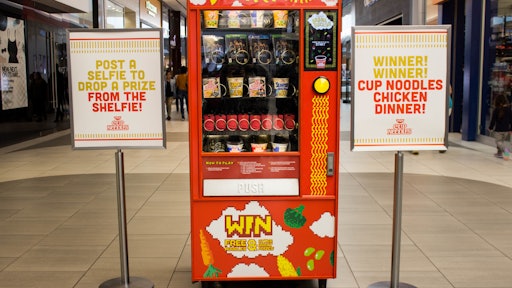 FOODBEAST
FOODBEAST, a digital media house known for creating visceral food experiences, has debuted a social media-powered vending machine with instant noodle company Nissin Foods USA. The machines will be housed within the Del Amo Fashion Center in Los Angeles and Las Vegas Premium Outlets South starting in early march.
The so-called FOODBEAST #DreamMachines will accept Instagram posts as currency and will distribute free prizes in real time after consumers post with a specific hashtag on their public feed. Prizes range from Cup Noodles, video games, gift vouches, Cup Noodles Merchandise and more.
How the Dream Machine works:
Press the big button to get a unique hashtag.
Post a photo with the machine on your Instagram using the special hashtag, and tag @foodbeast and @originalcupnoodles.
Follow the instructions on the screen to win your free prize
"What started as a joke in a campaign ideation session turned into a project combining web development, machine fabrication, wiring and networking," says Rudy Chaney, CTO and Co-Founder of FOODBEAST. "We're hoping this machine allows for the democratization of the Instagram influencer experience."
The vending machine runs on an internet connected 'Raspberry Pi' computer that controls all aspects of the machine. The vending machine's motor API maintains the vending process and has a web server running multiple sets of signals between Instagram API, vending machine API and the cloud. The machine also has a hashtag session authentication system to verify posting and the active user.
For Nissin Cup Noodles, the vending machine is a way to engage with their target audience in a modern, digital-driven fashion.
"We've had a great partnership between Cup Noodles and FOODBEAST and are excited to launch the Dream Machines for our fans," says Jaclyn Park, Vice President of Marketing at Nissin Foods USA. "We know how active our fans are on social media, and the Dream Machines are a surprising new way we can connect with our fans and thank them with fun prizes for including Cup Noodles in their social conversations."