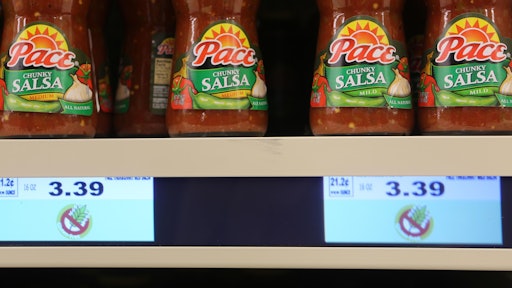 The ease of online shopping is coming to traditional grocery stores as Microsoft and Kroger have joined forces to develop a futuristic store.
According to Bloomberg, Kroger has remodeled two stores to test out features that include "digital shelves" that show ads and change prices on the fly along with a network of sensors that keep track of products. Eventually, the cloud-based system - developed with Microsoft- could be rolled out to all of its stores.
The partnership allows Microsoft to develop its cloud business, while Kroger braces itself for Amazon to grab a bigger share of the U.S. food retail market. Bloomberg reports that Kroger hopes to sell the technology to other retailers, potentially opening up a new revenue stream with fatter profit margins than selling groceries.
The digital shelves can be found at 92 Kroger locations and customers using Kroger's self-checkout app can be guided through the store to items on their shopping lists. Bloomberg reports that when a customer enters an aisle, the digital shelf will display a personalized icon chosen by the shopper to reveal the product.
Adding to that, the smart shelves also light up to help store employees pick orders for Kroger's curbside grocery pickup service. The companies say that they "pick-to-light" system can cut the time required to pick each order in half, potentially creating an advantage against rivals with their own curbside pickup services.
According to Bloomberg, several other are already testing the software. If all goes well, the revenue could help Kroger meet a pledge to generate an additional $400 million in operating profit by the end of 2020. Kroger has also invested in technology such as robot-filled warehouses and unmanned grocery deliveries.
Microsoft's technology will help shoppers find food in the most seamless way and will hopefully inspire other grocers to add the tech to their own stores.
To read the full original article, please click here.