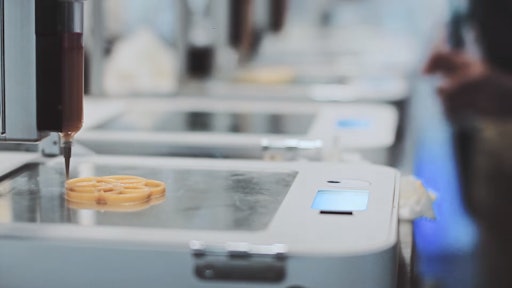 Billing itself as the world's first 3D-printing restaurant, the traveling event known as Food Ink, based in London, U.K., is hoping to bring a kind of fast-forward dining experience to major cities all over the world, according to seeker.com. The pop-up gastropub promises gourmet 3D-printed food made into artistic "culinary sculptures" presented in a series of high-tech, nine-course meals.
The world premiere is scheduled for July 25 to 27 in London.
The idea of 3D-printed food isn't new, of course, but the Food Ink team is surely taking it to new levels of hype.
The food will be served up by way of portable 3-D printers operated by a team of gourmet chefs working from their own original recipes. Anything that can be turned into an edible paste – hummus, cheese, pizza dough, chocolate – can potentially be routed through the extruders to create new dishes. Original foodstuffs are created layer-by-layer, and the 3D-printed fare will be combined with side dishes and garnishes prepared the old-fashioned (non-printed) way.
The Food Ink concept had its debut back in April at the 3D Printing Food Conference in the Netherlands. The plan going forward is to stage nine-course 3D-printed dinner events in London from July 25 to 27, then move on to other major cities worldwide, including Berlin, Dubai, Seoul, Rome, Tel Aviv, Barcelona, Paris, Amsterdam, Toronto, New York City, Taipei, Las Vegas, Sao Paolo, Tokyo, Austin, Singapore, Los Angeles, Cape Town, Sydney and Reykjavik.
To read more, click here.
Editor's Insight: 3D printing will make "on-demand food" a reality. The technology that preps, cooks and serves meals is in its development stage, but it is growing and it holds promise. Ultimately, these machines will allow food companies to prepare retail food products and meals that target every conceivable customer preference. They will deliver food right up to the time of consumption.
Eventually, "on-demand food" will give consumers, retailers and chefs the ability to be more creative with food. The demand for variety could explode. 7-12-16 By Elliot Maras