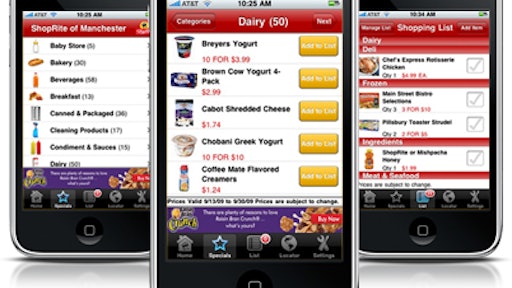 MyWebGrocer, a provider of digital marketing solutions to the grocery and consumer packaged goods (CPG) industries, unveiled the next generation of its digital experience platform (DEP) for grocers and CPG manufacturers. The MyWebGrocer platform is the only complete DEP to power every interaction to engage, transact and retain grocery shoppers.
According to Nielsen's recently published "The Future of Grocery" report, one-quarter of shoppers surveyed say they order grocery products online, and more than half (55 percent) are willing to do so in the future. Forward-thinking grocers and CPGs know they need a digital strategy to capitalize on this shift in consumer behavior. With offerings ranging from digital planning tools for shoppers, click and collect order fulfillment, mobile and social tools, and digital circulars, recipes, shopping lists and coupons, MyWebGrocer helps grocers of all sizes navigate the digital disruption happening in grocery retail.
"Grocery ecommerce has arrived and there are specific features, functions and requirements for grocers that ecommerce platforms built for general merchandise retail do not account for," said Rich Tarrant, founder and CEO at MyWebGrocer. "Moreover, grocers require a platform with proven scalability versus start-ups with unproven technologies focused on discrete aspects of the customer experience in isolation. It is also critical that grocers own the omnichannel relationship with their shoppers versus putting their brand equity in the hands of a third-party delivery service that will also disintermediate their business. We have been perfecting the grocery-specific digital experience for more than 15 years and our platform takes into account the need to power the entire customer purchase cycle leveraging rich data – not simply the transaction – while accounting for the complex nature of grocery ecommerce."
In addition to its solutions for grocers, MyWebGrocer enables CPGs to activate consumers at the digital shelf by putting their brands in front of the largest digital audience of shoppers with measurable, contextual, personalized advertising based on intent and purchase data. The world's largest CPGs leverage MyWebGrocer to bring their in-store shopper marketing campaigns to grocers' digital storefronts.
"MyWebGrocer's relationships with some of the world's largest grocers is a catalyst for brands looking to accelerate online and in-store sales," continued Tarrant. "CPG brands understand that data is key to gaining brand loyalty and know that advertising with MyWebGrocer is an effective way to influence the ideal customer in contextually relevant environments. CPGs and grocers have a highly symbiotic relationship that needs to be accounted for in the digital grocery shopping experience and this is why the capabilities we have built into our platform to connect brands with shoppers are so critical to the mutual success of both the CPG and grocer."
Flexibility is a key component to the MyWebGrocer offering. Unlike other ecommerce platforms, MyWebGrocer offers choice to its customers. The solution can be leveraged in an on premise, hosted or SaaS model depending on the need and size of the grocer. The platform is driven off a single technology stack and code-base, which means grocers do not need to pay for the integration costs between various point solutions. In addition, a single-platform approach reduces the back-end training costs for grocers. The solution is built on an API-driven architecture to allow for easy integration of customer, product and order data, and is completely modular to grow with each grocer's needs. The user interface can be fully customized to meet the grocer's brand requirements.
Shop2Gro is a fully featured ecommerce platform built for the specific needs of grocers. It is highly scalable to relate each customer's online shopping experience to a specific store (e.g. store-specific pricing, assortments, etc.) for ecommerce delivery or click and collect through its robust order management and fulfilment solutions. Shop2Gro supports mobile commerce, as well as grocer-specific merchandising needs including advanced search, prepared food ordering, cross-promotion, price change reconciliation and coupon redemption.
Plan2Gro closes the loop between planning online and purchasing in store through tools that help customers plan their shopping trips. Designed to create an ongoing personalized dialogue along the path to purchase, the module collects intent data as shoppers build lists, interact with circulars, view recipes, search and interact with contextual advertising. It integrates all planning features for a seamless experience across different devices for shoppers who want to build their lists on a desktop and move the list to their mobile device to aid in-store shopping trips.
Insights2Gro provides the data warehousing technologies to store and manage the massive amounts of data produced by shoppers as they navigate a grocer's digital channels. Because the platform is API-architected, grocers can easily combine third-party data and loyalty program data with the shopping data collected within the platform.
Marketing2Gro provides the tools and technologies grocers require to build and execute digital marketing campaigns. Data produced in the digital channel, along with loyalty program data and other third-party sources, fuel the marketing campaigns so they are highly relevant to the shopper.
Advertising2Gro enables grocers to connect their brand partners directly to shoppers with contextually relevant, personalized advertising. Shoppers are shown highly relevant ads while in a shopping mindset, enabling CPGs to influence shoppers while they are at the digital "shelf" and see closed-loop ROI on their media spend.
In addition, MyWebGrocer catalogs all possible product content a grocer would need to fuel the digital shopping experience, such as product images and nutritional information. The product library is automatically populated based on each store's unique assortment, relieving grocers the huge infrastructure and personnel burden required to manage multiple data feeds.
"Our digital experience platform is one of the most modern ecommerce and marketing stacks on the market because our architecture is completely API-based, and provides all the technology and solutions required to power the totality of the customer purchase cycle," explained MyWebGrocer CTO Tim Kenney. "Shoppers plan their trips by searching, building lists and consuming content. They interact with contextually relevant promotions, build carts over multiple sessions and then reorder – and do so across multiple devices. Moreover, the entire interaction is dependent on the uniqueness of the store they shop. Our platform provides the scalability necessary to account for store-specific assortments, price changes, promotions and also fulfill store-based orders profitably. Other platforms require extensive, time-consuming and costly customization or multiple third-party add-on solutions to fulfill what are basic requirements for grocers. We've made this very complex retail vertical incredibly easy and fast for grocers and their CPG partners, and we have designed it in a way that enables the grocer to differentiate and proceed at an investment pace that is right for their organization."