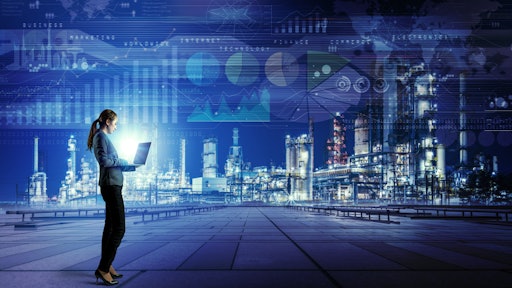 AdobeStock_182350781
When 2021 hit, the world was ready for the New Year. Even if it brought with it a New Normal -- new way of doing business, a new way to shop for groceries and more -- the turning of the calendar meant putting a year of supply chain disruptions, restaurant closures and constant pivoting behind us.
But, then, on March 23, a stranded Evergreen container ship blocked navigation in Egypt's Suez Canal, setting the stage for what would be a slew of supply chain disruptions after supply chain disruptions.
Suddenly, 2021 was quickly becoming a mirrored reflection of the year prior.
Then came the ransomware attacks, internet outages, container ships stuck at bay, bridge closures, driver shortages, ingredient shortages, natural disasters and more.
The hits just kept on hitting.
And, industry experts are already showing signs of struggle for 2022 into 2023, as routes to import/export remain clogged, ports continue to be backed up, cost of doing business increases and the labor shortage exists.
That's because supply chains are messy. And, they're only going to get worse before they get better.
In Food Logistics' Nov/Dec 2021 issue, editor-in-chief Marina Mayer talks with several industry experts about the state of the supply chain and what's in store for 2022.
Here's an interview with Scott Deakins, Deacom business unit leader, ECI Software Solutions, who explains why now is the time to re-evaluate the economic of automation and the power of cloud-based ERP systems, with excerpts publishing in Food Logistics' Nov/Dec 2021 issue. [CLICK HERE to read the article in full].
Food Logistics: 2021 started off with supply chain disruption after supply chain disruption. From the Suez Canal blockage and natural disasters to ransomware attacks and an industry-wide labor shortage, the supply chain industry is having to prove its resiliency over and over again. Looking into 2022, what does the state of the supply chain look like?
Scott Deakins: The perfect storm of 2021 exposed how fragile our advanced, global supply chain can be. Some company leaders didn't even know their product went to the Suez until it was delayed. In the year ahead, we can expect to see more and more companies working with redundant partners in critical areas like raw materials or distribution solutions in several overlapping territories.
Food Logistics: Let's talk supply chain visibility. What is your company – or what should companies – be doing to improve their own supply chain visibility?
Deakins: I highly recommend that businesses migrate to the cloud if they haven't done so already. The cloud is the only technology capable of ensuring visibility at every stage, and with a cloud-based, all-in-one, comprehensive ERP system, enterprises can gain the foresight they need to improve their supply chain.
But, I do have a word of caution -- some companies make the mistake of moving to the cloud without help. Organizations moving to the cloud for the first time should enlist the help of technology professionals that are dedicated to cloud deployment and management.
Food Logistics: The labor shortage is a real thing, and it's impacting several facets of the supply chain. What is your company – or what should companies – be doing to hire, onboard and retain good quality supply chain workers?
Deakins: Job satisfaction is key to hiring and retaining. Workers are frustrated, and amid the "great resignation" have discovered newfound leverage.
Not all employee desires are easy to fulfill, but once they show up to work, employers should be doing whatever they can to ensure that their staff is eager to return each day.
Businesses should implement systems that can automate menial tasks that workers find tedious and draining, allowing staff to focus on higher-value objectives, like an enterprise resource planning (ERP) tool. At a time when 4.3 million workers voluntarily quit their jobs in August alone, it can be a real lifesaver.
Food Logistics: What are some things not addressed above that may be pertinent to our readers?
Deakins: Another thing that might be pertinent is talking about production and quality automation. With the change in labor rates and uncertainty on labor availability, now is a great time to re-evaluate the economics of automation. A decision that was pushed off in the past due to cost might have a faster ROI today and help maintain business continuity.
[CLICK HERE to read the article in full].