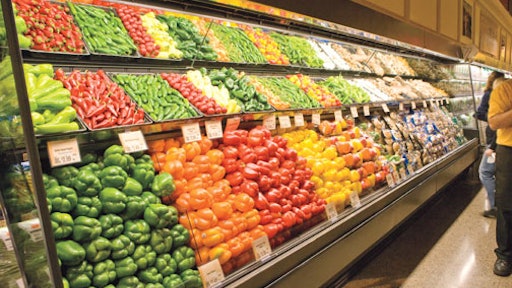 For some time, the titans of general merchandising—Wal-Mart, Target and Costco, to name a few—have been penetrating the pockets of the food and beverage industry. What's a grocer to do? Many are adding general merchandise to their product mix as a competitive strategy, and looking to digital commerce as an outlet for this expansion.
In fact, it almost appears that this strategy is essential for the traditional segment of the industry in adapting to the new competitive environment, if not critical to its survival. The possibility of higher margins to feed the bottom line is an added incentive. It's seems like the next natural step in blurring the lines between retailers and food purveyors.
Behind the omnichannel retail curve
Since grocers haven't always thought exactly like general merchandise retailers, they may feel like they're behind the omnichannel retail curve. However, even seasoned general merchandise retailers are struggling with this concept, according to the 2013 Retail Insight Report from RSR and SPS Commerce. Survey results found that only four percent of retail organizations have a fully executed omnichannel strategy, indicating that the retail industry (like the food and beverage industry) is at a turning point.
To compete in today's omnichannel retail marketplace, food and beverage players have to buy into the digital consumer's rules: the demand for an "endless aisle of goods" and increasingly higher expectations. Their creed: The item I want to purchase must be available within hours or days, and it must be competitively priced, regardless of where I want to buy it (in the store, online or on my phone)."
Reinventing to meet omnichannel demands
Like their competitors, food/beverage outlets can leverage an online presence to augment their general merchandise selection and broaden their market, and use their physical locations for buyers who want to pick up their orders. However, there are more considerations in building an endless aisle that require organizations to reinvent their business processes:
Item sourcing that easily enables the addition of larger assortments of new products
Connecting instantly with numerous trading partners without involving significant IT resources
Collaborating around item information including the latest digital assets and product details
Managing orders, shipments, payments and returns within the retailing organization and across trading partner relationships
Gaining insight from analytics to drive sell-through velocity, margin improvements and enhance customer loyalty
All sales channels must work together in an omnichannel retailing organization to support their brand in-store, on mobile devices and online, making streamlined integration a critical success factor.
Retail Business Network enables real-time item sourcing
To meet customers' needs for varied item assortment at competitive prices from multiple channels, consideration should be given to: Which items should be kept in store? Which items should be sold online? And which items should be sold in multiple channels? It will likely call for some experimentation to arrive at the right mix to optimize digital commerce sell-through and ensure that valuable in-store real estate contains a compelling assortment as well.
This is exactly why sourcing new items for accomplishing an aggressive merchandise expansion in this new retail environment is critical. Ever-changing consumer tastes and preferences require a much faster process than traditional vendor sourcing. Retailers need to onboard vendors in hours or days, not months. They need to quickly cycle items through their website to identify top performers, and carefully manage item assortment in stores for the same purpose. In today's marketplace, real-time visibility into a supplier's items and capabilities is quickly moving from nice-to-have to an essential capability as a means to quickly vet new suppliers and items.
A "networked" approach is the only way to successfully navigate the complexity of volume sourcing as well as other complexities in the omnichannel landscape. Just as social networks such as LinkedIn have changed how individuals, brands and companies connect with each other, communities of retail trading partners known as Retail Business Networks (RBNs) are transforming the retail industry.
RBNs provide greater visibility between retailers and prospective vendors for making it easier to establish relationships with them. Retailers can access all information about a supplier's items and capabilities to quickly vet new suppliers and items.
Efficient item management
The role of an individual item/product takes on even greater importance in omnichannel retailing, beyond content labels on shelved goods. The importance of item information (item details, images, video, customer reviews) has grown dramatically, powering search-engine-optimization (SEO) strategies for e-commerce customer acquisition, fulfillment operations in the warehouse and more.
Efficiently managing massive volumes of item data for digital commerce–digital images and video, detailed item information and even average customer ratings—is a challenge. Managing it for a retailer's entire vendor community requires a different approach to the business process and technology architecture.
In addition to managing more items, retailers and suppliers must manage more item attributes than ever before. Used both in store and online, attributes describe specific item characteristics that are critical to customer acquisition, merchandising, sales and fulfillment. More item data is a proven revenue driver, with a direct correlation between item content completeness and higher conversions and sales. Robust item information helps consumers make more informed buying decisions.
When customers shop online, they expect more information at their fingertips than if they were shopping in store, with many more details that help them make an informed purchasing decision. That means retailers need to support an expanded set of consumer-facing attributes, such as item descriptions, detailed images and videos, warranty information, and customer reviews. In addition, suppliers need to provide retailers with an expanded set of attributes to support items that are sold online, such as shipping descriptions.
Sharing all this item and shipping data needs to be driven by the automation that RBNs provide so that retailers can instantly update and incorporate accurate item information from their suppliers, and suppliers can automatically publish their latest item information to retailers. To compete for customers' mindshare and wallet share, retailers and their supplier communities need to gain control and mastery of real-time inventory visibility coupled with rich, robust sources of item information.
In summary, allowing food and beverage retailers, suppliers and other trading partners to integrate with each other as quickly and easily as friends "like" each other on social networks, RBNs have removed the barriers from turning omnichannel vision into reality. As such, they are fast becoming part of the fabric of competitive retail organizations.