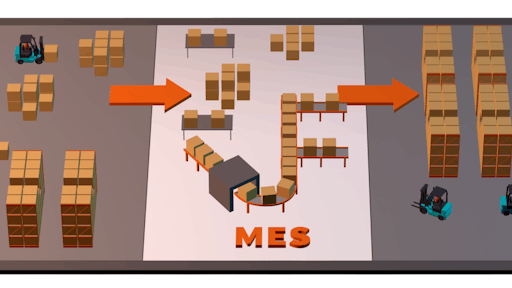 Generix Group
When the Coronavirus disease (COVID-19) hit the United States, it displaced employees, upended supply chains and fast-tracked deployment of emerging technologies. It disrupted the way companies do business, forcing them to work smarter, safer and more efficiently. What's more is, consumer shopping behavior changed almost overnight, setting the stage for what has today become a more e-commerce-driven way of purchasing groceries.
"The urgent needs of the pandemic forced wider and more immediate adoption of intelligent automation if for no other reason than to keep goods moving when limiting human contact became a matter of public safety and business survival," says Reggie Twigg, director of product marketing for ABBYY, a Digital Intelligence company.
COVID-19 forever changed the landscape of the cold food supply chain.
However, the pandemic also welcomed the widespread adoption of automation and robotics to help companies continue moving cold food and beverage through the supply chain. Here's why warehouse automation is key to maintaining a consistent supply chain in an unpredictable world.
Drivers of warehouse automation
The global warehouse automation market is projected to grow to $27 billion by 2025, according to Research and Markets. This growth is attributed to the influx in grocery retail e-commerce, emerging distribution channels, increased adoption of micro-fulfillment centers, heightened use of autonomous mobile robots and the ever-increasing need for same-day delivery.
Labor shortages are also driving this change, according to Mike Barker, VP of consumer goods for Swisslog.
"The impacts of COVID-19 on worker availability is obvious. Less obvious is that with Baby Boomer workers retiring, there are fewer workers willing to work in warehouses and the associated labor rates is increasing. This is making the return on investment for automation more compelling," he adds.
Warehouse automation also allows for flexibility and the ability to adjust accordingly as demands shift.
"Manual operations are highly susceptible to global disruptions such as the COVID-19 virus and natural disasters such as hurricanes and wildfires," says Sudhakar Janakiraman, senior VP of Americas region sales for Dematic. "Automation can help companies remove some of those dependencies and move them toward developing a more comprehensive. Automation can be the centerpiece of supply chain that is prepared to shift quickly to accommodate fluctuations in demand. Automation can help make employee safety a priority by promoting social distancing and allowing companies to reallocate staff to value-added tasks to better manage their supply chain."
And, with this flexibility comes the need for consistency and predictability.
"Automation by definition is consistent machine precision. Robots are literally programmed to perform the same rote task over and over again without mistakes or distractions," says Lior Elazary, co-founder and CEO of inVia Robotics. "So, when unforeseen circumstances arise, particularly ones that disrupt labor markets like the ones we've seen in 2020, robots can be depended on to continue working and completing the tasks that have been assigned to them. It's a welcome layer of stability during a time of disruption. And, when companies are scenario planning to build out their supply chains, the portion of their operations that is automated can be a constant factor. It mitigates their risk by eliminating a variable."
The push to automate warehouses was in full force before COVID-19, but mega-trends like aging population, globalization, health and safety, mobility, green logistics, autonomous world, urbanization, individualization and digitization fast-tracked implementation and deployment of warehouse automation, says Avi Gupta, principal analyst for LogisticsIQ. In fact, a LogisticsIQ study reveals e-grocery is the highest growing application with a market opportunity of $4.8 billion by 2026.
"Such automation will help companies fulfill the same-day deliveries needed to meet customers' expectations," Gupta says.
Furthermore, automation takes people out of harm's way and allows them to work in a safer environment while maintaining the same or increasing service levels, says Matt Rivenbark, director of sales food and beverage, SSI Schaefer Systems International, Inc.
"Automation accomplishes this by limiting travel and interaction between warehouse staff," he adds. "Also, it's a well-known fact that automation can't contract COVID-19."
Risk mitigation amid supply chain disruptions
2020 was full of supply chain disruptions, i.e., natural disasters, civil unrest and the ever-present COVID-19.
Yet, automation can very easily be the backbone of a resilient supply chain, according to David Stuver, executive VP of supply chain solutions for Americold.
"Automation is one of the best solutions for the lack of a skilled and available workforce," Stuver says. "When done correctly, warehouse automation can load and unload trailers and fulfill orders faster, reduce wait times and add hundreds of more available hours of service as opposed to physically waiting at warehouses to move freight. Future-forward food logistics professionals will continue to embrace the reality that their business cannot live without automation. Their supply chains certainly will not survive without it."
And, to keep up, more companies anticipate increasing their investment in automation of fulfillment and other processes, according to Honeywell Intelligrated study.
"Grocery, food and beverage have been some of the fastest growing industries in 2020. Cold chain management is critical to delivering products quickly and safely to stores and consumers. Within the warehouse, automated storage and retrieval systems (AS/RS) can be designed with integrated temperature-controlled sections and [warehouse executive software] modules to provide accurate sequencing and quick access to cases or pallets in a secured, dense and efficient storage system at the appropriate temperature until shipment," says Christine Feuell, chief marketing officer for Honeywell Intelligrated. "Machine learning algorithms, advanced data-driven optimization techniques and artificial intelligence (AI) are the data science. When combined with sophisticated warehouse execution system (WES) software, they create decision intelligence. With it, distribution center operators can streamline operations and improve their bottom line."
Leveraging automated solutions can also help reduce the risks associated with human dependence within a warehouse, says Doug Mefford, product marketing manager for Generix Group.
"The next generation of the WMS, also known as Tier 1 WMS, such as offered by Generix Group, enables companies to track and trace inventory, as well as manage their workforce, with real-time visibility, while automating increased workflow throughput with advanced business rules. The Gartner Magic Quadrant offers extensive insights on such advantages, recognizing, for example, Solochain WMS for its seamless MES integration," says Mefford. "Our customers signal significant cost savings by reallocating staff to value-added activities and through gains in productivity as well as exceptional inventory accuracy, visibility and traceability. This results in an enhanced work environment for the warehouse employees all while reducing risks and potential errors.
"This reduced dependence allows goods to move when disruptions happen [that] impact labor availability," he adds. "Specifically, with COVID-19, the need for social distancing and reduced close contact, automation can be leveraged to move goods and reduce the proximity of workers with one another. Crane-based AS/RS systems maximize the throughput of cold storage facilities when used in conjunction with conveyor systems and automated guided vehicles. The cold goods maintain temperature and move through a facility without labor dependency, thus increasing throughput, accuracy and speed. Leveraging Internet of Things (IoT) sensing devices to track the constant temperature of goods provides the necessary visibility and traceability of cold goods during transportation."
Solutions turn challenges into opportunities
In order to help warehouses and fulfillment centers meet the influx of demand, 6 River Systems developed a collaborative mobile robot named Chuck to add efficiency and accuracy to the picking process.
Chuck features large, easy-to-clean action and pause buttons and lights, thus reducing human interaction with the touchscreens. Chuck's touchscreens are also compatible with styluses and with a wide variety of gloves and enables a base-level of social distancing by automating long walks between induct, active picking and takeoff areas, reducing crowding on the warehouse floor and more.
"Automation, such as Chuck, adds greater efficiency to warehouses as they are adjusting to the influx of e-commerce and buy-online-pickup-in-store/buy-online-pickup-curbside (BOPIS) demand and provide additional support," says Fergal Glynn, VP of marketing for 6 River Systems. "Collaborative robots support associates as many warehouses are experiencing high demand and labor shortages, helping them work more efficiently by optimizing pick routes, reducing the physical strain and increasing picking accuracy. For example, if a dark grocery store is fulfilling non-perishable online grocery orders for delivery and employs a Chuck, employees are able to reduce long walks and in-aisle activity. Additionally, Chuck helps associates speed up tasks by automatically guiding them to the exact location they need to go through the use of machine learning and the company's cloud-based software. Chuck also ensures the most efficient path through the aisles, so productivity can be boosted 2-3 times."
6 River Systems also developed The Bridge, an overarching tool that connects the data from what's happening on the ground in a physical warehouse operation to an intuitive cloud-based control center.
"This tool gives our customers the ability to fine tune and control each aspect of their operation and optimize their warehouse to meet the unique needs of the business by leveraging service-level agreement management, embedded operational dashboards and exception management," adds Glynn.
SSI Schaefer developed the WAMAS Lighthouse, which allows real-time gathering of key performance indicators from various warehouse operations, such as the automation system itself or information from a third-party equipment for temperature settings, etc. The data releases indicators on preventive maintenance issues or even bottlenecks within a process.
"An intelligent WMS is the central intelligence hub that runs the warehouse; it can learn and react to things in real time to make life easier," Rivenbark says. "If a product is depleted from a pick face, you won't have to wait until the next picker comes to realize this mistake. The system will know this in real time and create a replenishment task to refill inventory before anyone even notices that it wasn't there. It also keeps historical information that can help with forecasting and maintain traceability."
For its part, SnapFulfil launched a remote implementation (RI) program that can be onboarded from anywhere in the world within a matter of weeks. This program provides tailored virtual support, including regular online training and status meetings, to ensure new teams are able to access and test the system, meeting critical go-live deadlines.
SnapFulfil also released SnapBuddy, an AI-style training tool and fully integrated digital adoption platform that enables customers to self-configure their warehouse management system (WMS).
"The COVID-19 pandemic has changed the way we do business forever and demonstrated the need for businesses to react quickly and adapt to sudden market changes with cost control key," says Don White, CEO of SnapFulfil North America. "Delivering remotely like this, without any physical interaction or movement of people, overcomes social distancing and global travel restrictions."
For its part, ABBYY debuted the ABBYY Timeline solution, a process intelligence platform featuring advanced task and process mining technology. ABBYY Timeline allows businesses to utilize AI innovation to build an interactive digital twin of their processes, analyze them in real-time to identify bottlenecks and predict future outcomes to facilitate decision-making of technology investments, says Twigg.
An ABBYY survey asking workers how their company's business processes and availability of technology impacted their work revealed that nearly 76% of transportation and logistics workers said they experienced challenges during COVID-19 with the top challenges being collaborating with colleagues remotely, adhering to strict processes and motivation to work. Meanwhile, 64% said their companies introduced new smart technologies to help them work from home during the pandemic, including AI, intelligent document processing, chatbots, digital assistants, task monitoring software and communication and collaboration tools. Yet, 47% said business processes made their job more challenging, 33% said processes wasted their time and 26% were so frustrated that bad processes made them want to leave their job.
That's why it's important for logistics leaders to fully understand how their business processes work before introducing new technology, Twigg adds.
"Dealing with disruption is par for the course in the supply chain business," he adds. "It could be traffic-related, weather-related or geopolitical-trade issues that make getting products to their destination challenging. Now with stay-at-home and social distancing mandates, the supply chain is getting more demand and record volumes across every sector. It has definitely impacted process capabilities and illustrated the importance of warehouse automation."
"For warehouse automation to be truly successful, it needs to be able to have access to a mosaic of data from various stakeholders in the supply chain and merged with processes in real-time, so decisions on product availability, shipping, invoicing and delivery can be made at a moment's notice," says Twigg.
Dematic's Matflo WMS is an end-to-end fulfillment solution for automated and manual material flow. Matflo WMS integrates planning, operations, people and equipment to provide high levels of flexibility, labor efficiency, fulfillment accuracy and traceability.
"I think the key word there is visibility," says Janakiraman. "Automation has become a matter of survival. Automation reduces both fulfillment cost and speed of order fulfillment. Systems can operate in the backroom of retail stores or in dark stores as the hub in a hub-and-spoke operation. Expect to see more solutions that span across the supply chain ecosystem, connecting supply, demand, inventory optimization, fulfillment optimization and so on."
Another automated solution being deployed is goods-to-person (GTP) systems that deliver totes of product to stationary operators who pick items from the tote and then return to the tote to storage.
"GTP systems greatly improve storage density and picking efficiency of slow-moving items, which are typically the most challenging for storage and picking efficiency," says Luke Nuber, account executive, Fortna Inc. "While these systems are not new, the business case for application of them is expanding exponentially, driven by decreases in the price of the technology, increases in SKU assortments and the costs of labor and real estate. These systems are also finding new use cases, particularly for highly efficient micro-fulfillment strategies being deployed in dark stores and store back rooms to position products closer to customers (hyper-local fulfillment), allowing rapid delivery and customer pickup."
Plus, WMS come in all sizes and flavors supporting various levels of functionality, adds Chris Bratten, manager of software sales for Bastian Solutions.
"Depending on the scope of the WMS, it can provide storage efficiencies through slotting optimization, where faster-moving products are promoted to primary picking locations and slower-moving products are relegated to secondary or reserve locations," Bratten adds. "With detailed location-level inventory visibility, supervisors can also optimize the position of a product within the storage location to minimize operator movements to prevent repetitive stress injuries and minimize walk time to maximize productivity. Most WMS provide detailed reports and dashboards, which, along with a robust integration to the host [enterprise resource planning] system, provides additional detail on inventory movements to impact the forecasting, re-ordering and planning within the purchasing department. This helps reduce the necessary safety stock required, and therefore, the carrying costs and physical storage space associated with that excess inventory."
New automation for the New Normal
While physical in-store shopping will never disappear completely, the reduction of foot traffic in stores brought on by the pandemic will put a larger emphasis on e-commerce and alternative in-store fulfillment methods in the "New Normal," Glynn says.
"As consumers embrace more and more online shopping, warehousing operations will face more challenges with returns, increasing the demand for efficient and affordable reverse logistics," says Glynn. "In order to adjust to these new focuses, retailers will need to be strategic on how they utilize their physical store spaces. For example, many retailers are leveraging storefronts to support BOPIS and BOPAC inventory as opposed to dark stores or warehouses. Additionally, warehouses that were previously reluctant to implement automation before the pandemic will now embrace flexible automation solutions to keep up with competitors, meet the increased demand and to provide a positive customer experience. As more companies realize the affordability and ease of implementation of flexible automation systems, it will become necessary to adopt these systems in order for a fulfillment business to remain competitive in the industry. What was once a method that some stores and retailers were slow to adopt will likely be here to stay."
Plus, technology is in a constant state of evolution.
"The 'New Normal' is still evolving. but clearly the endgame is full 'lights out' automation," says Nuber. "Minimal human interaction will be required for most functions other than maintenance of equipment. The only things preventing 100% warehouse automation are the business justification around those technologies, the immense capital required to invest in these systems and the corresponding volume requirements to shorten the payback window. There is little doubt however that enabling technologies like robotics, grippers, vision systems, machine learning and AI will continue to increase in capability and decrease in price, eventually replacing human operators altogether."
According to a Honeywell Intelligrated study, warehouse execution system (48%), order picking technology (46%) and robotic solutions (44%) – currently three of the most widely implemented solutions – are most expected to receive further investment soon. And, consumers opting to for BOPIS are expected to increase by more than 60%.
"We're seeing an even more aggressive growth trajectory in warehouse automation," says Feuell. "Companies are all in different phases of their automation journey. But, all are looking for scalable automation solutions that can adapt and expand as their business requirements evolve. Some companies are seeking to upgrade to higher speed and more advanced material handling and integrated software systems, others are investing in Industrial Internet of Things technologies to achieve a true 'connected distribution center' that integrates equipment and systems to increase reliability, improve utilization and scalability and maximize productivity of assets, processes and people at the facility and across the extended supply chain. Keeping pace with perpetually increasing retail store and e-commerce fulfillment demands is more challenging than ever."
In terms of what the future looks like for warehouse automation in a post-pandemic world, warehouses are projected to feature automated systems that operate largely autonomously.
"The industry is seeing an accelerated deployment of solutions such as automated picking, packing and shipping as well as automated mobile robots with plug-and-play commissioning capabilities. This will cause the warehouse worker to become technicians of sorts, with a focus on keeping these technologies in run mode when inevitable issues arise," says Ahmed Arif, director of sales for Bastian Solutions. "For many years, the 'holy grail' of a dark warehouse was the desired end state, however we will more than likely see a concert of technical warehouse operators with highly automated solutions for the foreseeable future. There are also many advancements in robotic bin picking among other solutions that will still require pickers and packers. The added benefit of ergonomics and safety should make those positions more attractive and easier to fill."
Furthermore, large cold storage third-party logistics (3PL) providers are seeing a surge in demand, thus making room for more automated ways of moving product from Point A to Point B.
"These 3PLs are increasingly deploying AS/RS systems to effectively and efficiently store, retrieve and load vehicles. These fully automated systems, which are ideal for pallets and smaller goods such as cartons or bins, can boost warehouse quality and efficiency, while enabling companies to maximize space, performance and flexibility to respond to changing market requirements," says Barker. "It's important that companies and supply chain mangers get comfortable with uncertainty, and not let it paralyze operations or initiatives. The challenge organizations face when planning material handling automation that will carry their business into the future is that the 'cone of uncertainty' no longer really narrows. A year later, it's just as difficult to project where the business will be in five years. The need for automation technology will continue to grow as the technology evolves and capabilities increase."
What's more is, automation is more than just introducing robots into a warehouse.
"It is applying intelligence to rethink the way goods are moved from Point A to Point B, and then Points C, D and E," says Elazary. "The robots are simply the tool to execute a smarter, more efficient movement of goods across the warehouse. It really requires looking at processes and people with fresh eyes and holistically, taking into account all of their interdependencies."
And, there are ways to get into automation without going over budget, says Janakiraman.
"Retailers need not be paralyzed with fear because their competition is automating. A seasoned material handling company can provide a path to addressing operations with automation that leads to future growth," adds Janakiraman.
Automation in itself is not a silver bullet, says Mefford, but when leveraged with advanced WMS, MES, transportation management system and other solutions, the benefits can be vast. That's why warehouse automation continues to be the key to maintaining a consistent supply chain in an unpredictable environment.