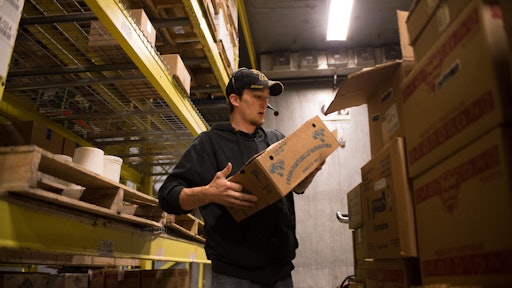 Lucas Systems
Surging demand for grocery delivery and pickup has resulted in widespread delays and exposed the shortcomings of manual picking processes for in-store fulfillment. Here are five best practices grocery retailers can apply today to improve their store-based picking operations and ensure they make the most of the e-commerce grocery opportunity for tomorrow.
Grocers struggle to fill surging online orders
Online U.S. grocery sales more than doubled in March, as consumers sought to avoid crowded stores amid panic buying in the early stages of the Coronavirus disease (COVID-19). Many grocery retailers and delivery services strained to keep up with the jump in online demand, with extended wait times for delivery and pick-up.
The online order surge has exposed the limitations of in-store picking processes. Automation alone will not solve the problem, as manual picking will predominate in many grocery stores for years to come. Even retailers investing in highly automated micro-fulfillment centers will rely on manual picking processes for surge capacity and serve customers in markets where automated systems are not cost-justified.
To improve picking efficiency in stores, grocery retailers should borrow picking best practices and technologies that are already proven in distribution centers and e-commerce fulfillment center operations.
Grocery stores are designed for customers, not pickers
In-store picking is analogous to picking products in a distribution center, but the store environment itself creates a different sort of optimization problem. The average grocery store is less than one-tenth the size of an average grocery distribution center (40,000 square feet vs. 400,000-plus square feet), leaving many stores constrained for space. In addition, store layouts and product positioning are based on maximizing sales rather than minimizing travel per shopping trip (as is the case in a distribution center).
Nevertheless, grocers can improve the efficiency and throughput of their in-store processes by borrowing work execution best practices from their distribution centers. The following process improvement ideas would apply equally to dark stores (for e-commerce only orders) and stores serving e-commerce and in-person shoppers.
Improving in-store fulfillment
1. Order batching. Instead of picking one order at a time for every trip through a store, many grocers are already creating batches of two or more customer orders that a store associate can pick on a single trip through the store. The benefits are clear—rather than making four trips to pick four orders, a single person with a large cart segmented to hold four orders can make one trip, drastically reducing travel time. In the context of a distribution center, order batching systems may use advanced optimization logic to maximize cart fill rates (the percentage of cart capacity that is used) and/or to minimize travel time per cart. Similar technology can be used in stores.
2. Variable cart configurations. Online grocery orders vary widely in the number of items and weight and volume per order. Some orders may be so large that you could only fit 1-2 orders on a cart while other orders may be so small that you could create batches of 5-10 orders. Many distribution centers account for these order differences by using a variety of order picking cart configurations – a large order cart or small order cart – and in some cases, use software to build cart assignments that combine big and small orders together.
3. Two-stage picking. Two-stage picking is typically used in a warehouse or distribution center to improve the productivity of picking slow moving items (i.e., products that are ordered once or twice a day, or less – and that are stored in a separate area). In essence, all of the slow movers are picked at once in a larger batch. In the grocery context, two-stage picking can address a different kind of challenge.
We often see stressed personal shoppers waiting in line with regular shoppers to pick up deli, meat and seafood orders. With a two-stage process, each of the specialty items can be assembled in advance of the rest of an order (pre-picked, so to speak). The assembled specialty orders can be set aside in a location where personal shoppers can pick up the items for their orders on their main trip through the store.
4. Zone-based picking. Along the lines of two-stage picking, zone picking involves separating each area of the store or distribution center into a separate zone and splitting orders across the areas. In the grocery store context, this allows managers to assign more experienced or capable pickers in those areas where additional expertise is needed – produce, for example. This is also a useful strategy for increasing pick density in areas where the number of items per order is especially low compared to the number of SKUs. In those areas, you may pick all items for 10-20 orders at one time. Zone picking requires designated staging locations for completed orders from each zone, as well as well-defined processes for merging items picked in the different zones into a finished order.
5. Order assembly and quality control. There are a number of proven methods for merging and assembling orders in the distribution center that apply to store-based fulfillment. In two-stage picking, pre-picked items can be picked up as part of the main picking sequence. In other situations, items from one area may be "put-to-order," while others may be picked from staging locations (designated coolers or freezers) as part of the final order assembly process. Finally, order assembly can also be used as a final quality control point. Having different personnel pick and check orders improves accountability.
Tie process innovations together with software
Many of the process innovations described here could be implemented in stores using printed shopping lists. But, that's a recipe for chaos and customer service catastrophe. Instead, grocers will need to rely on software to direct workers, coordinate the different processes and track items and orders as they are picked and packed.
Similar to work execution software used in distribution centers, grocery stores will need store-based execution systems to:
· Create optimized "batches" of work to maximize picking efficiency across varying order sizes, while also ensuring orders are picked, packed and ready on time;
· Automatically split orders by zone and manage the assembly and merging of orders after picking;
· Schedule and coordinate two-stage picking so that pre-picked specialty items are ready when needed without interfering with orders for walk-up customers;
· Efficiently direct and confirm the activities of personal shoppers via intuitive, easy-to-follow mobile applications;
· Give supervisors and managers real-time visibility to order status across areas, employee performance and alerts when items are out of stock, order delays and other exceptions.
The good news is that distribution centers have been using this sort of work execution software for years. And, the software relies on the same underlying technologies that stores already adopted, including cloud-based software systems, in-store WiFi and user-friendly Android mobile computers and scanners.
COVID-19 may be the tipping point for e-commerce in grocery, permanently changing consumer behavior and shopping habits. In that case, grocers have less time than ever to develop efficient, effective fulfillment capabilities.
Automation will be a part of the long-term solution, but manual picking processes will pre-dominate in the short term. To make the most of the e-commerce opportunity, grocery retailers will need to adopt in-store process and technology innovations similar to those already used to pick orders in grocery distribution centers and e-commerce fulfillment centers.