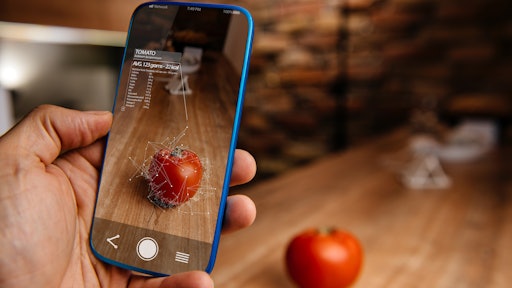 Getty Images
The food supply chain is unlike any other. While electronics, automotive and consumer goods' supply chains promote their products, the food supply chain represents a basic human necessity--food.
Because all consumers require food, it deserves a highlighted view of the use of new technologies, including artificial intelligence (AI) and augmented reality (AR) to promote efficiencies, prevent disruptions, lower risk and boost customer confidence.
That's why food and beverage supply chain leaders need to understand the ever-expanding role technologies play in their businesses and how they'll influence the industry this year and beyond.
Major growth areas
The use of AI and AR represent significant advantages in the entire global supply chain.
For instance, AI in the food and beverage market is expected to register a CAGR of over 65.3% by 2025, according to a report published by Mordor Intelligence, India. The North American food and beverage market possesses an AI-adoption rate of approximately 29.1%, the study says.
But, the industry is ready for change, and the functional constraints that would lead most to assume AI and AR are unrealistic for the industry make it possible to introduce such technologies in this sector.
Specifically, AI within the food and beverage sector will achieve a 65.3% CAGR by 2025, as outlined in a report by ResearchandMarkets.
Furthermore, the food and beverage industry will experience a growth in AI-guided chatbots, which help consumers make faster purchases.
Case in point: Nearly 50% of consumers will spend more time in a store or on a company's website when they feel that that company provides superior customer service. AI chatbots provide this opportunity, and can be used to analyze, monitor and influence consumer behavior and purchasing decisions.
However, the food and beverage industry does have a problem with large-scale deployment of AI and AR. While these technologies can boost efficiency, food and beverage companies have lower profit margins and limited resources.
It is impractical for such companies to develop the same investment capital like some of the larger e-commerce sites can. The costs of AI are not cheap, and leading technology companies spend more than $650 million annually to create such resources, according to the ResearchsandMarkets report. Paired with consumer demands for faster, more affordable and more easily accessible food options, the use of AI in the food and beverage supply chain can seem impossible.
But, the benefits of using such technologies to fuel stronger profit margins, realizing the potential health impacts of more traceability, improving inventory management and more can help food supply chain leaders make the tough decisions and build the business case for investing in these innovative technologies today.
Boosting profitability and lowering risk
An IBM Global survey found 84% of chief supply chain officers recognize a "lack of visibility" as the biggest challenge they face.
Comparable to manufacturers, food supply chains need an infusion of AI, analytics and blockchain to improve visibility, boost profitability and lower risks. Improved visibility is essential to minimizing disruption, and combined with the power of AI, more visibility can allow replenishment systems to run on their own, self-optimizing ordering processes, connecting with consumers to move more foods from shelf to table and understanding where risks reside.
Enabling inventory optimization
Fresh foods are problematic for grocers. Nearly 40% of food that's produced in the United States goes to waste, and nine out of 10 top grocers don't publicly report their total food waste, according to analysis by the Center for Biological Diversity, Tucson, Ariz., and the 'Ugly' Fruit and Veg Campaign. Plus, the variety in seasonal availability can influence consumers' purchasing decisions.
The solution lies in improving inventory management of fresh foods.
AI-guided inventory management systems could leverage point-of-sale data, information collected from consumers' social media accounts, marketing data and other sources to refine fresh food replenishment and stocking.
Predicting demands based on various factors
The use of AI and AR technologies also help food supply chain leaders better plan for demand. While this involves inventory management, it also goes a long way in predicting potential disruptions, such as the more recent outbreak of the coronavirus.
While the coronavirus represents a problem for manufacturers, consumers around the globe will look to the food supply chain with suspicion. Remember, food and beverages are what we eat and drink, and that is the easiest method to contract an illness.
Thus, even when a potential health concern does not necessarily affect the farm-to-fork supply chain in the United States, U.S. food and beverage supply chains must ensure disruption-free operations and cut off the opportunity for such health threats to contribute to distrust. In a sense, this is the consumer confidence-building aspect of AI that merges with inventory optimization. Ongoing improvements within inventory management and better demand planning reduce waste, help supply chain leaders avoid unnecessary risks and reassure customers of food and beverage safety. AI and AR enable those capabilities.
Building customer confidence
Over the years, U.S. grocers have experienced an increase in criticism and demands for more transparency. The current processes and technologies in place do a poor job of allowing for true traceability from farm to fork. AI combined with blockchain can provide the immutable data needed and proof required of the world's major food supply chains to guarantee safety, quality and consumer confidence.
AR-enabled glasses, for instance, can help farm workers identify when fruits and vegetables are ripe. The same technology could connect to blockchain-based systems to create the unchangeable record of origin.
AI-guided systems could use the information gathered from this point to compare food availability to incoming grocer and restaurant orders. It is an ecosystem of automation and continuous improvement.
AI going forward in 2020
The food supply chain is under constant attack from risks, including the spread of bacteria and foodborne illnesses, uncertain weather, political influences and more.
Regardless, leaders of the food supply chain must work to mitigate these risks and ensure the world can still eat safely tomorrow and well into the future. By using AI and AR, food chains can finally attain a little slice of peace of mind and avoid major disruptions.
In addition, AI and AR will continue to advance and offer new opportunities to improve food supply chain management and end-to-end visibility.