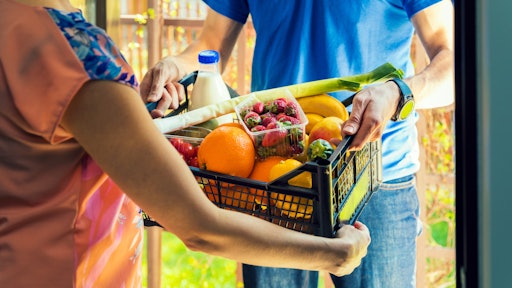 Getty Images
Challenges of online grocery continue to plague the industry. From keeping up with regulations to integrating the correct equipment to an increased demand in online grocery, there is seemingly no end in sight. That's why more grocers are adding warehouse management systems (WMS) to their logistics network.
The size of the overall grocery market, which includes both in-store and online sales, is expected to reach $678 billion this year, according to a report by IBISWorld, New York. Online grocery currently makes up just a fraction of that number, but will only grow in the years to come.
While it was reported in February 2019 that 3% of U.S. grocery shopping occurs online, by December 2019, just 10% of shoppers were regularly shopping online for groceries.
And, according to a Gallup study published in August 2019, 81% of Americans never order groceries online, while 11% say they do once a month.
But, the slow adoption of online food ordering could indicate that consumers enjoy picking their own groceries in person, or that they don't see sufficient savings of time or money to justify the switch, the Gallup study says.
So, what does this mean for the future of WMS in grocery?
Industry challenges
"Customers in the food retail space face challenges that are fairly unique," says Adam Kline, senior director, product management at Manhattan Associates, Atlanta. "Only, perhaps, the pharmaceutical and beverage industries face the level of regulatory rigor that food retailers (and food distributors) face."
Today's grocers must use WMS that satisfy regulations while also meeting business needs.
"A WMS must enable food companies to comply with ever-changing and ever-tightening regulation. Core capabilities such as expiration date tracking, batch tracking, FIFO (first-in/first-out) and FEFO (first-expiration/first-out) allocation, and robust transportation routing and planning are key areas a WMS must excel," says Kline. "Other areas, such as cross docking and flow-through distribution add a layer of efficiency that is critical in an industry where margins tend to be thin."
Integration of multiple systems
When implementing delivery and pickup options for online grocery shopping, grocers may have to add functionality to existing in-store systems that were previously only included in on-site inventory and point-of-sale systems.
"As food retailers grow beyond just replenishing their stores and begin to reach customers in a more direct manner, the operational procedures, and hence, usage of the WMS, must morph to approximate closer to an e-commerce-type process," Kline says. "To be effective in such an environment, a WMS must excel both in retail store fulfillment and e-commerce fulfillment. By mastering both styles of fulfillment, a food retailer can drive efficiency, while simultaneously gaining an edge on their competition."
To manage fulfillment, many retailers use "dark stores," or centralized distribution centers that have layouts similar to the store, but are not open to the public.
"Progressive food retailers will work out how to manage deliveries to their direct customers from the local store via curbside delivery or via third parties, such as Instacart," Kline says. "To eliminate disruption within the store, however, managing direct deliveries from the warehouse can appear to be a good option. In this scenario, a WMS must be flexible enough to handle both movements of large quantities required by store fulfillments, but also smaller quantities required by the direct customer."
Integrating POS with WMS
Some stores also integrate in-store inventory systems with their WMS, says Jon Kuerschner, vice president of supply chain consulting, HighJump, Minneapolis.
"The WMS is directly integrated with the point of sale. The WMS provides the inventory visibility, provides all of the receiving in the back, as well as the picking processes for either a customer pickup or a courier-executed delivery," he says.
That integration links in-store systems with the dark stores to help pickers find items on their lists.
"Oftentimes, the stores don't carry enough of the commodity products to be able to support that many in-aisle shoppers [for] customer pickups," Kuerschner says. "They also have pickers that are working in geographically-centered dark stores picking commodity items and then, via couriers or an internal fleet, delivering it to the store and marrying it up with the rest of the customers' orders. We're seeing that as a growing trend, and the reason for it is simply space, and then also the in-aisle congestion."
Picker congestion and product substitution
In-aisle picker congestion and rectifying product substitution are trending issues associated with grocery retailer WMS systems.
"Grocers are trying to figure out how to balance the customer satisfaction aspect of it, the cost aspect of it and the service aspect of it," says Fred Rudolph, account executive with Fortna, West Reading, Pa.
WMS allow grocer retailers the flexibility to adjust and improve processes to enhance customer satisfaction.
"Another reason why WMS are a good value proposition for a grocer is that if customers that shop in the stores get inconvenienced by professional pickers who are picking orders for a curbside or home delivery, when a store is really crowded on Sunday and the customers realize that a third of the people that are in the store are picking the orders for other people, it creates congestion, and it can reduce the customer satisfaction of the customers that are actually shopping for themselves in the stores," he says. "A lot of them started piloting programs, like taking orders in the store. And, that's a current normal chain of theirs and they will replenish those stores based on their existing processes."
Still, substitution of products is an issue that retailers are hammering out, though.
"When you're shopping, you go to the grocery store, you see that [one tomato sauce brand] is out, but [another brand] or multiple other tomato sauce brands are available," he says. "We as shoppers will just decide, 'Okay, well what I want is the 24-ounce can, I don't care about the company (brand) or I do care about the company and I'll just get two 14-ounce cans and just waste the last 4 ounces. You make those decisions yourself, but if a picker makes that decision and then you're not happy with the result, it might not be a big deal, or it might be a big deal."
That's why grocer retailers are actively working on better solutions to substitution, he says.
"A lot of the grocery chains are trying to get this right because you don't want to antagonize your store-shopping consumers, but you also want to make it a good value proposition for those customers who do want to use curbside or home delivery, so that it's a win-win for everyone," Rudolph says.
There are several ways a WMS can help improve efficiencies and integrations within grocery retail operations.
From automation and inventory mapping to improving productivity through the use of other technologies, the challenges of online grocery persist, regardless if items were purchased in-store or online for pickup.
But, as customer demands for shopping options increases, and grocery retailers continue to expand their shopping channels, implementing WMS continue to help them stay ahead of today's--and tomorrow's--trends.