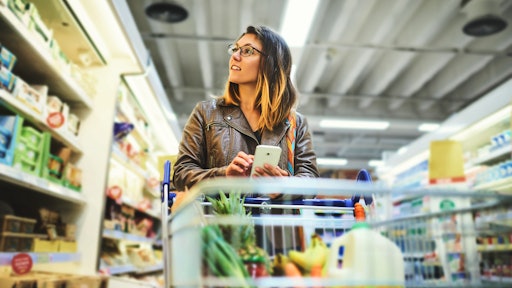 PeopleImages/E+/Getty Images
While companies like Walmart, Kroger and Target are racing to deliver groceries right to customers doorsteps, consumers are still incredibly wary on buying online.
Shoppers are still concerned whether or not they are being charged higher prices than they would if they were to do the shopping themselves. Meanwhile, concerns have also been raised on whether drivers would arrive late, damaging any cold food that may have been purchased.
Currently only 3 percent of grocery spending occurs online. Meanwhile, only a quarter of consumers have even tried an online grocery service within the last year, according to a survey by consulting group Bain & Co. in collaboration with Google. Out of the 8,000 surveyed, only 26 percent reported that they order groceries online more than once a month.
Online grocery shopping is only expected to explode within the coming years, though. Companies are partnering with delivery providers like Instacart and Shipt to get more shoppers to take advantage of their services.
Consumers still need to be convinced to do it, though.
According to the survey, only 42 percent of those who used a grocery delivery service for the first time said it actually saves them time. A bad experience could potentially ruin a shopper's perception of the concept because the survey found that at least 75 percent of online grocery shoppers continue to use the first retailer they initially shopped from.
CNBC reports that there are two pricing models that retailers follow when deciding how to price online groceries and delivery fees. One way is that prices on the internet will be exactly like they would be in store and are transparent on how much the extra service charges are on top of that, or the retailer could hike prices to cover any extra fees. Consumers are still wary on online grocery shopping because they don't know if they're getting a fair price or not.
Even if the grocers haven't yet captured the trust of the consumer, they are still continuing to move toward delivery as it is more profitable overall.