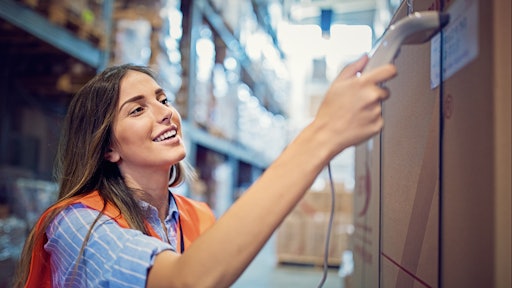 Getty Images
Saladino's is the largest independently owned foodservice distributor in California, and the 14th largest distributor in the nation. One of the company's foodservice operators required Saladino's to start receiving and scanning GS1-128 barcodes. With the ability for data capture at the case level and its role in food traceability programs, Saladino's implemented GS1-128 barcode-scanning capabilities upon receipt into its distribution centers and at customer delivery points. What resulted was a more efficient operation and greater supply chain visibility.
The company decided to implement GS1 standards even further, integrating better data quality practices, such as physical product audits to ensure every physical product matches its system data. This was used to fill any gaps in product data from suppliers.
Standards for Competitive Advantage
Like Saladino's, many foodservice companies are finding that GS1 standards are a key to staying competitive and agile in today's rapidly changing business environment. There are more than 140 companies that participate in the GS1 Foodservice Standards initiative, an indicator of the widespread support GS1 standards are receiving.
"In our case, the GS1 standards helped us rewire our approach to how we managed our products," said Craig Urrizola, CIO of Saladino's Foodservice. "We were able to move from sizing routes based on case count to sizing routes based on cube and gross weight. It also enabled us to launch a new WMS system for three warehouse locations within a single year."
Developed by a consortium of industry members, GS1 standards provide a common language to identify supply chain data.
"Simply put, GS1 standards provide visibility," said GS1 U.S. Vice President Angela Fernandez, who oversees the organization's foodservice initiative. "When a product is visible in the supply chain, companies have more control. By setting up products to be uniquely identified and traced using GS1 standards—an interoperable, standardized data exchange infrastructure—companies are filling in the gaps left open by proprietary numbering systems, paper-based recordkeeping, manual labor and otherwise unorganized data."
Transparency Through Standards
Supply chain visibility based on standards provides many benefits.
One of the most popular use cases is for recall readiness. Companies can isolate products faster during a food recall if they can alert trading partners about where products were shipped and when. They can also make more details available about sourcing or ingredients for the consumer. Additionally, more than 80 percent of shoppers use their smartphones to conduct research prior to purchasing a product in a store, according to the Food Marketing Institute.
"Standards help brands and retailers provide consumers with consistent and trustworthy information," said Fernandez. "Also, standards can help food brands serve their supply chain partners better and more efficiently, leading to better on-shelf availability and inventory accuracy."
There are many GS1 standards, but according to GS1, the three standards that are most impactful to food supply chain visibility are:
Global Trade Item Numbers (GTIN). These globally unique identifiers can be recognized in all trading partner systems, even across geographic boundaries.
Global Location Numbers (GLN). GLNs uniquely identify supply chain partner locations such as manufacturing plants, distributor loading docks or restaurant locations, and can be used in supply chain tracking.
GS1-128 barcodes. When applied at the case level, GS1-128 barcodes enable companies to encode product identifiers as well as additional information such as batch/lot/serial numbers, best-by dates, variable weight information and more (all are key details that help companies isolate affected product during a recall).
"We wanted a quicker and more accurate means to identify products at all stages of the distribution lifecycle (e.g., receiving, picking, delivering), but we also wanted to improve how we handled the rotation of perishable items to better track lots for consumer product safety reasons and to provide our purchasing, sales, customer service, and customers with better information about the products we sell," said Saladino's Urrizola.
Other companies in the food and beverage industry have followed suit.
"GS1 standards provide systems interoperability and help companies work toward greater data accuracy…" - Angela Fernandez, vice president, GS1 US
At Tyson, GS1-128 barcodes were implemented to provide case-level traceability to help enable stability and reliability; and at Ocean Mist Farms, GTINs were implemented for each product to improve traceability and supply chain visibility.
"While there is still much work to be done to bring all supply chain partners up to speed on the benefits of a standards-based framework, progress has been made in the fresh foods areas—including meat and poultry, and produce," said Fernandez. "GS1 standards provide systems interoperability and help companies work toward greater data accuracy…They are key to creating more consistency and reliability in the underlying business applications that support key use cases by enabling systems to essentially speak the same language."