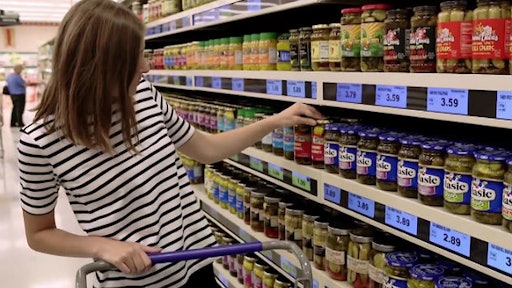 By 2025—just seven years from now—the online grocery industry could skyrocket from its current valuation at $13 billion to generate $100 billion in sales, representing 20 percent of all grocery sales, according to recent findings from FMI and Nielsen.
This rapid market acceleration shows us that last year's mergers, acquisitions and technological explorations were just mere harbingers of more growth opportunities and disruption to come. Creating an agile supply chain gives innovative retailers the ability to serve and captivate digital-savvy consumers. To fully capitalize on investments such as e-commerce, click-and-collect and in-store technology like digital shelves, supply chain operations must run smoothly behind the scenes, or retailers risk losing sales and brand loyalty.
Manufacturers, distributors, retailers and solution providers are collaborating using GS1 Standards as a common foundation to share information about a product as it moves through the supply chain—effectively connecting physical product to its digital presence. Let's take a look at the importance of standards to create systems interoperability in the digital era, including how trading partners are collaborating on improved data quality and operational excellence.
A Data Quality Focus
There is no doubt that retail grocery has been disrupted, and distribution models are already changing to suit faster supply and demand. Whole Foods just introduced its order-to-shelf system, putting a new spin on an older distribution model. In this example, distributors and suppliers deliver small batches of product and retailers keep little to no inventory on hand. With cost savings benefits and the ability to cut down on food waste, order-to-shelf requires close coordination between trading partners to calibrate supply and demand, therefore avoiding empty shelves.
Overall, as new distribution models like this are being tested, data quality must be prioritized so that the accurate information can fuel different systems. From an internal operations perspective, entire loading operations can be shut down if the data recorded and shared does not match the product's actual weight or size, for example. If truck allocations are off, it can wreak havoc on the fulfillment process. Bad data can also affect trading partners' ability to deliver on consumer demands for information transparency. Additionally, data quality affects last mile delivery, which is already a known hurdle to grocery delivery success. What the consumer orders must be what they receive on their doorsteps, or retailers and brands will lose out to competitors that get it right.
The global standardization of product information enables companies to ensure complete and accurate data exchange, preventing such loss of loyalty and costly breakdowns in supply chain efficiency. GS1 Standards provide a consistent foundation of unique product identification and automatic data capture for efficient information sharing among trading partners. The most common example of a GS1 Standard is the item number used in a U.P.C. barcode. This is the globally unique product identifier used to track items in PIM systems or other various data management systems.
Companies leveraging GS1 Standards are taking their investments in this system a step further using the framework established by the GS1 US National Data Quality Program. The program places emphasis on data governance, education and training, and the performance of attribute audits (routine physical audits that compare an actual product to the most recent information shared about that product). Through this process, data professionals stay committed to data quality as new flexible supply chain capabilities are tested.
An Operational Excellence Focus
Another example of how the industry is collaborating to improve flexibility in the supply chain is evident in a recent examination of order changes. A retail grocery industry workgroup under the guidance of GS1 US created a new guideline outlining best practices for dealing with inevitable changes originating from both supply and demand-side partners. The group found that leveraging GS1 Standards for more efficient, automated processes such as using Advance Ship Notices (ASNs) can ensure that systems, transactions and trading partners remain electronically up-to-date and aligned.
An ASN is a notification of pending deliveries, similar to a packing list. It is usually sent in an electronic format and is an electronic data interchange (EDI) document used in retail supply chains. Based on the consensus of the workgroup, the ASN is underutilized in everyday supply chain transactions. An ASN can provide structure in lieu of error-prone manual processes. Manual approaches such as phone calls or emails often result in errors that can ripple downstream, from receiving all the way through to invoice and payments.
ASNs essentially enhance efficiency in retail grocery warehouse and receiving operations by moving the focus off of the minutiae of the actual physical shipment, and help companies to maintain a holistic view of their order management processes. If traditionally disjointed business processes are cleaned up behind the scenes, companies can avoid inventory out-of-stocks and excel at the innovative fulfillment options that consumers crave.
Overall, consumers can expect to see more exciting innovations as the retail grocery industry gains its footing during another potentially pivotal year. Many of the future innovations that have long been discussed are coming to fruition—now it's up to industry to collaborate to bring the supply chain up to speed.