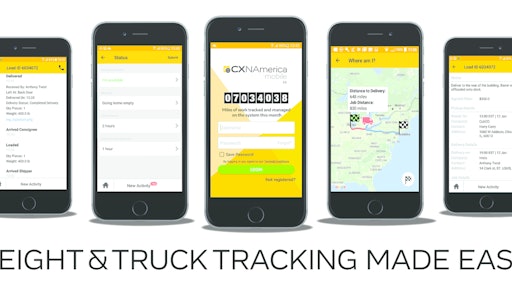 The word app is ideally coined. While the apps we discuss today are typically small, specialized programs downloaded onto mobile devices and smartphones, the definition of the full word, application, is the act of putting something to a special use or purpose, at least according to dictionary.com. And that's exactly what food logistics apps are—software that is intended for a specific functional purpose to help you run your logistics business. Following are some examples of apps that can do just that.
The Penske Fleet Mobile App
Penske Truck Leasing recently introduced a free mobile app called Penske Fleet to benefit its full-service truck leasing and contract maintenance customers. The mobile app enables Penske's customers to:
View real-time fuel prices in local markets and costs for third-party fueling locations across the United States.
Review a detailed 90-day history of vehicle maintenance services performed.
Easily search and find Penske locations for service, fuel or rental trucks; public scale locations; and third-party compressed natural gas fueling stations.
Make one-click roadside assistance calls and monitor the status of roadside calls.
"Fleet operators are consistently on the go," says Sherry Sanger, Penske senior vice president of marketing. "Our app helps customers manage their vehicles easily and places the services they rely on at the tips of their fingers."
The Penske Fleet app is available for free download in the Apple App Store and on Google Play. Penske Truck Leasing customers should contact their local representative to request log-in credentials.
The CX North America Mobile App
CX North America Information Services Inc., a freight collaboration solution provider, recently launched its next-generation mobile app for drivers. The CX North America Mobile App provides real-time information exchange and tracking within the context of specific freight shipments, offering drivers, fleet managers, brokers and customers up-to-date information. Beyond delivering location, communication and control functionality at the tap of a finger, the app offers a ready means for enhanced vehicle utilization, better load and capacity management, lower fuel consumption and reduced carbon emissions.
Ideal for carriers, drivers, brokers, freight forwarders and third-party logistics providers, key benefits of the CX North America Mobile App include:
Visibility and control functionality that increases vehicle utilization, load management and use of excess capacity.
Real-time job alerts sent directly to drivers in the field, matching vehicle location, capacity and capabilities with businesses in need of freight services.
The ability for drivers to send alerts showing both current status and future availability.
Live tracking links that allow customers and partners to see job status in real time from acceptance of the job until after proof of delivery (POD).
Conveyance of all shipment details at a glance, including full load information and pick-up/delivery notes and instructions.
A built-in CX Messenger that allows real-time, secure, two-way communications with drivers, controllers and partners, and links all conversation records to specific jobs, creating a fully auditable trail.
The capture of electronic PODs in real time with stamped dates and times.
Full control over the information visible to others.
The CX North America Mobile App is available in the Apple App Store and on Google Play, and integrates seamlessly with CX North America's online platform, and with most telematics and transportation management systems. It is free for CX North America subscribers and firms doing business with subscribers.
The LoadProof App
Kenco Logistics recently teamed up with Smart Gladiator to roll out LoadProof, a new image-capture mobile app designed for logistics operations. The app increases visibility by photo-documenting shipments to improve compliance, and reduce manual documentation and costs.
Warehouse workers, truck drivers, supervisors, or anyone involved in shipping and receiving can photograph shipments, and instantly upload photos to a cloud server with supporting information about the date, time and load details. The images and information can be shared with anyone to help improve visibility, determine responsibility for issues and prove the shipment was in good condition at the point of transfer.
The scalable, secure, enterprise-ready application is available for both Android and Apple devices at www.loadproof.com. It has a secure cloud repository to store the photos, which can be easily integrated into various supply chain systems.
Companies in this article