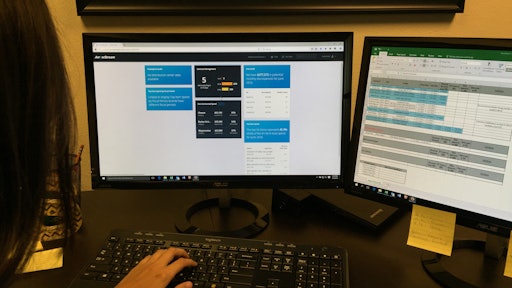 Management software has been well established in the foodservice industry, but it does not typically include supply chain management. As restaurant operators become more cognizant of the need to manage their supply chains, many are beginning to embrace supply chain management software.
Ric Scicchitano, executive vice president of food and supply chain at Corner Bakery Café, a fast-casual chain with 195 restaurants in 28 states, began researching a better way to control spending and inventory four years ago. There were more than 120 restaurants in the chain at the time. Scicchitano did not think there was enough control over inventory and purchasing, so he began to explore supply chain software.
"The restaurant industry is low tech," Scicchitano says. "You'd be shocked to find out how many people don't have a robust piece of software to manage their supply chain."
After studying its options, the company deployed ArrowStream's OnDemand supply chain software to improve inventory visibility. "OnDemand gives us the robust ability to see up and down the supply chain in every which way, what's coming in, what's going out the café doors," Scicchitano says. "What's the distributor inventory, what's the inbound, what's the outbound?" The data makes demand inventory forecasting easier.
"When you manage the supply chain, you're really trying to leverage the margin on your P&L," Scicchitano says. "If I can take my food costs down from 25 percent to 24 percent, that's a huge win on the P&L."
Visibility Makes a Difference
"Having visibility gives us the ability to make decisions in a timely manner," Scicchitano says. This is especially important in managing promotions, which is a major part of the business.
It isn't unusual for a restaurant organization to find distributors holding excess inventory once a promotion ends. "If you were watching it, week one and week two and week three into the promotion, you can rebalance the system," he says. "You can tell manufacturers, 'don't ship any more to that distributor.' It's really about timely information at your fingertips. You can react to the business proactively versus reactively."
Corner Bakery Café now checks with distributors in advance of promotions to make sure they have the necessary inventory. "From the standpoint of visibility of what's going on behind the scenes, you can actually peer into the distributor's warehouse and make sure they're doing what we tell them to do."
"How do we trust and verify that the people we pay to do their jobs are actually doing their jobs?" Scicchitano asks.
Better Negotiating Power
The data is also helpful in negotiating contracts with suppliers. Suppliers want historical performance data. "It's nice to be able to take high-level data and carve it down to the micro level," he says.
The ArrowStream OnDemand module includes suites such as limited time offers, LTL management and quality assurance that the user can add to the base platform.
Corner Bakery Café manages the supply chain for all of its company-owned restaurants, which are the majority. The franchisees manage their own supply chains, and they are given access to the software as part of their franchise arrangement.
Corner Bakery Café has inventory, food cost and point of sale systems for its internal operations separate from Arrowstream.
The most difficult part of deploying the platform was learning to use it. "It takes training," Scicchitano says. "You have to understand how the reports run; you have to understand how the queries run; you have to understand the architecture." The ongoing customer support is very important.
Better Invoice Control
The most immediate benefit was being able to check distributor invoices. "We got charged quite a bit of overcharges," Scicchitano says, reflecting on what it was like prior to having the software. "We are saving some pretty big money." The company previously verified prices manually. "We have 4,000 invoices a week. There's just no way a human being can audit that," he says. "Some things just weren't happening without the system."
"Whatever my annual fee is for ArrowStream, I pay for it before the Super Bowl every year, meaning I pay for it within the first two months," he says. The savings come mostly from distributor and manufacturer price verification. In some cases, manufacturers overcharge distributors.
Managing promotions inventory better has also delivered savings.
More productive team performance has been another improved area. The time required for certain clerical tasks has been reduced, allowing employees to spend more time on analysis.
Management Firm Benefits
Managing supplier agreements at the supplier level is a challenging daily task for the auditing team. Restaurant Partners Procurement (RPP), a specialized procurement management company, represents multi-unit restaurant groups throughout the United States, says Eric Sheen, president and CEO. Distributor contracts are loaded into the OnDemand software for clients. The auditing team tracks all discrepancies and communicates daily with distributor contact compliance to secure credits for any overcharges.
"We manage over 5,000 pricing contracts daily, and 20 percent of contracts have misinformation due to errors at the distributor level," Sheen says. "Ninety percent of them (the errors) are in the distributor's favor," he says. "With the ArrowStream auditing system, we can correct it right then and there. It allows peace of mind at the CEO, CFO and operator level that everything's pulling with 100 percent accuracy on every order."
"The system integrates with the distributor every day," he notes. "So as our store operators place an order, we know in real time if that contract is pulling correctly."
"Furthermore, we know that the operator is being compliant to a hard-product specification," Sheen says. Should an operator buy the product outside of the program or if the distributor sends an unapproved substitute product, RPP will know. "We can see the inventory level into the warehouse at any time, including purchase orders on the way," he adds.
When RPP brings on a new distributor for a client, RPP and the distributor work with the Arrowstream integration team to map the data together so all companies' data sets are identical. The system will flag any incorrect contract prices a distributor might enter on an invoice, even for items not under contract.
Improved Partner Relations
"Because of our daily oversight, the distributors are now paying much more attention because they know that we're one of the very few customers that monitor and catch these errors," Sheen says. "It forces them to micromanage the contract loading process much closer. By doing this, it's easier to correct a problem on the front end while maximizing everyone's time."
Some RPP clients only utilize its auditing services. The OnDemand software allows RPP to audit more cost efficiently than the cost of an in-house staff.
RPP also manages distribution, logistics, sourcing, cost effective products and operational performance at the store level for clients. "We spend a lot of time looking at every item to ensure a company is aligned to the right spec that best represents their brand and guest profile," Sheen says. "As an example, if you have the wrong trash liner specification and you're a 20-unit chain, you might be leaving $50,000 a year on the table. We make sure that the trash liner that the distributor will spec is the right spec for a client's needs."
"Technology is changing the way that we buy, the way we source, and the way we move boxes around," he says. "Computers are more efficient than humans are as long as there is a competent and qualified team member entering and managing the information."
Proactive Management Possible
"We can solve a problem before a problem happens," Sheen adds. An example would be a distributor running out of inventory prematurely. This would be visible to the supply chain software. "We can see where the trucks are. We can see when the truck's due to arrive," he says.
RPP used a manual system as recently as two years ago. "It's really been our silver bullet for our client's business," Sheen says of the software. "It also has provided a safety net for our distributors and they value the additional oversight."
Overhead and cost are significantly reduced, he adds.
Cloud Brings Benefits
Foodservice chains are finding cloud-based platforms make it easier to provide information to distributor and manufacturer partners since the technology offers end-to-end supply chain visibility, says Vishy Visweswaran, chief technology officer at SCA Technologies LLC, a cloud-based supply chain and cost management software provider.
This is important since product demand volatility has exploded in the last few years since consumers have so many food choices. The commodity prices have also become more volatile. The time the restaurant has to go to market with a new product has fallen significantly. "A lot of the supply chains are just catching on to that," Visweswaran says.
The demand for fresher and more sustainable products has also created the need for promotions planning and execution algorithms. "They're trying a lot of new products," says Visweswaran of restaurants in general. The goal with promotions is to execute them profitably.
Sustainable sourcing has become a popular goal for many foodservice companies. Being able to track where the product comes from allows companies to deliver on these promises. Several companies have stated, for instance, that their eggs will be from cage-free chickens in five years. These companies now have the means to monitor how well they deliver on these goals.
Managing E-Commerce
E-commerce is also putting new demands on foodservice operators, just as all retailers, says Visweswaran.
"Consumers are now ordering things electronically. The way product is being ordered and the way that information is available is changing," he says.
A restaurant can know what product is available at a low cost for a given month, and what product has high demand. The information can then be used to create a very profitable promotion. For this to happen, the supply chain has to be proactive with marketing, which Visweswaran says is not yet happening.
"Supply chain hasn't necessarily caught on and started using that information very effectively," he says.
Information available through social media can also help companies decide what to offer and promote, he adds. The data could be used to determine on-the-spot promotions.
A lot of effort has gone into improving the accuracy of the cost of goods forecast. Visweswaran says forecast accuracy has improved in recent years. Companies are forecasting their food costs into the next 12 to 18 months with greater accuracy.
Cloud technology has made it much easier to add capabilities, he notes. "Moving to the cloud was pretty much a no-brainer for us," Visweswaran says. "We can maintain common software for multiple clients. From the clients' standpoint, it's completely transparent. They don't have to maintain a large IT infrastructure on their site. They get access to the latest capabilities."
SCA Technologies' platform has nine different modules, including sourcing optimization, logistics network optimization, promotions planning, sales and operations planning, commodities risk management, and cost of goods forecasting. The modules integrate easily, allowing for a seamless user experience.
The most commonly used logistics modules are the end-to-end network optimization module, a distributor management module, and a logistics redistribution module. The logistics redistribution module allows a company to determine what to do with leftover pallets on a truck. "The software can help them dynamically decide whether to send product straight to restaurants or through a hub," Visweswaran says.
The sales and operations planning module allows restaurants to track distributor and supplier inventory as well as supplier capacity, allowing for more dynamic product sourcing.
Optimization and Forecasting
Optimizing logistics and product forecasting can have a big impact on costs, Visweswaran says. These modules are reducing food costs by 3 to 4 percent, which is significant for foodservice.
Chains are able to visualize cost impacts of changes in volumes, commodities, hedging, and operations processes, along with the ability to adjust prices across multiple forecast scenarios. They can also track and control performance-related cost metrics across the supply chain.
Another benefit is being able to integrate inputs from suppliers and the marketing/forecasting, treasury, supply chain, purchasing, and finance teams onto one platform, delivering each group crucial information for analysis and planning.
By reducing volatility invariance, operators are saving operating capital and financing costs. The automated, streamlined processes eliminate data-security risks and human errors. The automation of pricing-related data flow, analysis, and reporting reduces time.
Foodservice Distributors Adopt GS1 to Meet Customer Data Needs
GS1 global standards for foodservice distribution continues to gain use among foodservice distributors. With more than 110 member organizations worldwide, GS1 US brings U.S.-based businesses and communities together to solve supply chain problems through the adoption and implementation of GS1 standards.
Shamrock Foods, a foodservice distributor, recently deployed GS1 standards to satisfy the increasing demands from its customers, notably school systems and health care providers, that require allergen and nutritional information.
Shamrock recently developed a supplier connection process to allow vendors to publish product data and images in its electronic ordering system for customers. According to a 2015 GS1 report, more than 500 Shamrock suppliers publish product information and share and synchronize data via the Global Data Synchronization Network (GSDN).
Having the right pallet height for the warehouse, the exact weight for the logistics team and the correct portion size for the sales teams and customers have improved efficiency and customer service – underscoring the importance of data quality and completeness in today's marketplace.
Shamrock reported a 20 percent sales increase and a 15 percent demand gain for products that have extended data attributes like nutritional information and product images.
UniPro Foodservice Inc., a cooperative of 450 foodservice distributors, created a master data management portal where manufacturers can publish core attributes and marketing and nutritional attributes. All the data synchronizes with the portal via the GS1 GDSN, giving members an efficient way to access quality product images and information.
Manufacturers can now distribute information about their products to UniPro's member locations. Sales reps and members save time researching products and can make more informed purchasing decisions.
Distributors need value-added allergen and nutritional information for customers. The UniPro portal provides a resource for distributors to know what's in a product. It used to be up to UniPro members to find the supplier sales rep or go to a website to get this information. This was a time-consuming process.
UniPro now works with manufacturers to publish attributes like weight, case size, carton size and shelf life, along with nutritional data, ingredients and allergens.