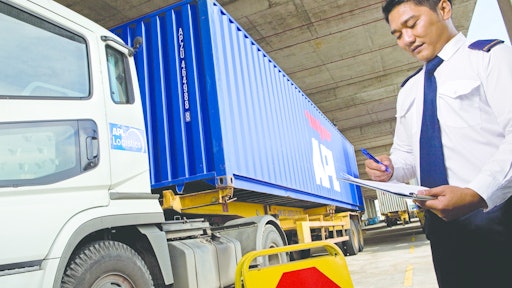 One of the most important safety aspects of the food supply chain relates to the activity that occurs inside the four walls, and that includes the safety of employees. Labor makes up a significant cost for most companies' warehouse operations, particularly in the food and beverage industry.
Not surprisingly, economic pressures, higher numbers of temporary workers, and unrelenting customer demands for higher productivity and performance can make it difficult to maintain a rigorous safety program. But, despite the challenges, safety doesn't have to suffer.
Adapting to new workforce realities
Marty Gordon, director of risk management, Americas, for APL Ltd., says an increasing number of temporary workers make up today's warehouse laborers. "This is largely the result of recent economic conditions. At the same time, our customers are pushing us to keep costs down so that they can deliver value pricing to the end consumer."
Temporary workers can help an organization more quickly scale up or down to meet changing demands. It also represents a variable expense, as opposed to a fixed expense associated with full-time employees, which offers some flexibility as well.
The skill level of temporary warehouse workers is typically quite high, points out Dixie Brock, manager of safety & claims and risk management, Americas, for APL Ltd. "They are trained to work with a variety of industrial equipment," she says. APL's contracts for temporary workers specify that they are physically capable and adequately trained.
However, Gordon admits that more temporary workers obviously means a higher turnover rate, "which puts more of an onus on us to constantly provide training, while the local APL managers have the added burden of more monitoring to make sure safety standards aren't compromised."
APL's response has been to implement vigorous training, couple it with thorough analysis, and make it consistent throughout their global organization. Both Gordon and Brock are big fans of OSHA (Occupational Safety & Health Administration) too, and use the agency's injury frequency rates to help benchmark APL's standing in the marketplace, which is currently about one-third of what the industry average is in terms of accident frequency rates.
Gordon says when it comes to accidents, "The ultimate goal is zero, of course. We try to focus our program, our training, and our supervisory emphasis on bringing down total injuries, which brings down the OSHA frequency. We use the Pareto principle to analyze where our incidents are happening, what types of incidents they are, and then discuss it with a number of people—our brokers, our underwriters, external safety people, and various industry professionals—to come up with new strategies in order to impact those critical areas."
Applying the Pareto principle, which essentially states that 20 percent of the hazards will account for 80 percent of the injuries, is very effective, considering that most of the injuries tend to fall within three categories, says Brock. "Ergonomic risk factors, industrial equipment accidents, and slips, trips, and falls are where most of the injuries occur," she says. "For the 20 years that I've been doing this, it has remained unchanged. We keep driving our risk down with better tools, but these three categories are still where the injuries take place."
One of the "better tools" that APL utilizes is comprehensive data and robust analysis, which really help reveal what's happening with injuries in the workplace, says Brock. "I really like it when you can look at the data and analyze the causal factors to help determine what processes are showing higher rates or risk and where the injuries are occurring. By contrast, if I only had data on the number of injuries, that doesn't really tell me the whole story such as what the worker was doing when he or she was injured."
Brock shares a recent example: "When we were putting together the program for this year, we knew that ergonomic injuries would be on the list. What surprised us, though, was that 40 percent of these injuries occurred when a worker was reaching for something, not because he or she was lifting a heavy object."
Gordon is quick to emphasize an important point, "Safety is just good business. Aside from the primary goal of keeping people safe in the workplace, it also keeps costs down for the business. So, in one way, the economy has actually become a driver of safety. If you want to trim your insurance, your reserves, you need to maintain a good safety program. Not the fake, 'plastic' program with signs and placards, but something that rings the chimes for people."
Nurturing belief-based safety leadership
As a former Army infantry officer, Don Osterberg, senior vice president of safety at Schneider National, sees the value in empowering people, whether it's soldiers or warehouse employees, to stop an unsafe act. His approach is admittedly more "esoteric," he says, but it's firmly rooted in sound science.
Simply put, people become more desensitized to safety risks over time, and it's insidious. "The speed at which things are moving in a warehouse can cause people to rush or hurry. It sounds obvious, but when we look at injuries in the warehouse oftentimes it occurs because workers are not taking the time to do things safely. Pushing the envelope and cutting corners works great, until it doesn't."
The way to combat this is to make sure employees and leaders develop situational awareness, says Osterberg. "That's where it starts. Next, you have to have the courage to assert yourself to become a catalyst of change."
Osterberg says that while it may have been acceptable in the past for safety leaders to be "clipboard-carrying, checklist-using people who were out there looking for workers doing things wrong," the better approach is to "create engaged safety leaders who are out there looking for people who are doing things right."
Furthermore, while many safety professionals adhere to a behavior-based safety program, "My view is that this is old school," says Osterberg. "If you're addressing the behavior, you're treating a symptom of the problem. Instead, you need to reprogram what people believe, through affirmations and self-image, that nothing is worth hurting themselves or others." This sets the foundation for "belief-based safety leadership, as opposed to behavior-based safety management," he explains. Another way to look at it is this, "We manage processes. We manage data. But, we lead people."
When a company's safety program extends beyond the warehouse to the road, there are new challenges, primarily the lack of constant supervision in a controlled environment. "We have drivers who may not see their supervisor more than one time per month. This really validates the importance of creating a true safety culture," says Osterberg. And, that's why Schneider empowers its drivers to make decisions based on safety concerns, such as shutting down even though a customer's freight may miss a delivery deadline. "It may not be popular, but we support our drivers if they need to make that call," he says.
Safety is also about protecting brand names and reputations, adds Osterberg. "As transportation professionals, we really have a moral obligation to the motoring public to operate safely. We also have a financial obligation to operate safely. Safety really does pay; it's the low-cost approach."
According to Osterberg, settlements involving commercial truck accidents have risen over the years from $1 million or so to as high as $60 million. "We can ill afford to put our brand at risk. If you damage that brand, it's irreparable in so many ways."
Safety a Hot Topic at Upcoming IFDA SHOW
The annual conference of the International Foodservice Distributors Association (IFDA) takes place this year from October 29-31 in Las Vegas. There are a number of sessions devoted to various safety-related topics, including a recently added presentation that will be led by Jorge Hernandez, senior vice president of food safety and quality assurance at U.S. Foodservice. Hernandez will update progress on the Global Food Safety Initiative's efforts to write a benchmark for the storage and distribution of food.
According to Jon Eisen, IFDA's senior vice president, government relations, a session on the Food Safety Modernization Act (FSMA) had to be dropped from the conference schedule because the legislation is basically "stuck in limbo at the moment," and it's not expected to change until after the November elections. Meanwhile, "The FSMA's Foreign Supplier Verification Program is scheduled to become effective January 4, 2013, and it will be an enormous change for our industry," notes Eisen.
The industry is understandably becoming more frustrated with the FSMA delays, which result in added uncertainty. Finally, in late August, the Center for Food Safety and the Center for Environmental Health filed a complaint in federal court against the FDA and the White House Office of Management and Budget (OMB) to try and get things moving. It drew more attention to the delays, but probably won't exact anything more than press coverage for the short term.
Meanwhile, according to Eisen, some of the other hot topics for IFDA members include the Hours-of-Service (HOS) rule, which was revised for the third time in December 2011. Two of the most significant changes include the requirement for a 30-minute off-duty period before the driver reaches a full 8-hour shift, and a revision to the 34-hour restart provision.
IFDA has filed a joint amici curiae brief with other industry groups in support of the American Trucking Associations' (ATA) lawsuit, which challenges this latest revision. "Grocery stores rely on deliveries early in the morning, especially for perishable goods that have a limited shelf life and must be on the shelves when stores open," the brief stated. "With the changes to the rule, lead times for perishable goods will increase, leading wholesalers to increase inventory levels to maintain service. All of these changes would lead to increased costs throughout the supply chain."
The revised HOS rule is scheduled to become effective on July 1, 2013.
Creating a Safety Culture for Your Fleet, By Andrew Leavitt
Building a safety-driven culture is about more than just implementing the right policies and procedures—it's about creating an overall awareness and focus on safety that permeates the actions of everyone involved in operating and maintaining a commercial vehicle. A safety culture lets drivers, technicians, and managers know that safety must be prioritized above all else.
So how does a fleet create a safety culture? The following tips provide some guidance:
1. Implement a formal safety program
How do you make safety a part of your organizational DNA? A good place to start is assessing your current safety practices and identifying areas for improvement. Once you've done this, a critical next step will be to create a formal safety program. To begin, it helps to:
• Identify an executive champion to signal the importance of the initiative to your entire organization.
• Designate a safety manager to lead the program and give him/her all necessary resources.
• Engage employees by communicating safety messages on a proactive and continuous basis.
• Make sure policies, employee safety responsibilities and messages are clear and simple.
• Set up processes for hiring, training and monitoring drivers.
• Track results regularly and recognize/reward drivers for safe behavior.
2. Maintain your vehicles and conduct thorough inspections
In addition to preventing costly FMCSA penalties, CSA interventions and downtime, a well-maintained fleet can help prevent defects that lead to crashes. And, it makes more sense to replace a part before it fails than to wait for it to cause problems on the highway.
Preventive maintenance routines should be scheduled at regular intervals—mileage-based, quarterly and annually. At a minimum, technicians should inspect brakes, check warning and fault indicator lights, inspect engine compartments for fluid leaks, and tires for air pressure, alignment and tread depth.
Additionally, Part 396.11 of the U.S. Department of Transportation (DOT) rules and regulations requires drivers to complete Vehicle Driver Inspection Reports at the end of each working day. The report assesses several vehicle components—such as brakes, steering mechanisms, lights and reflectors, tires, horns, windshield wipers, rear-view mirrors, wheels, rims and emergency equipment—and can serve as a good guide for inspections.
3. Find and keep good drivers
When it comes to drivers, there is a strong correlation between a history of safety violations and a driver's involvement in collisions. This is why it is so important to hire the right drivers from the start. Fleets can do this through rigorous pre-hire screenings, interviews, and hiring practices. Before hiring, it's imperative to check Motor Vehicle Records, accident histories and legal records, run criminal background checks, and conduct drug and alcohol tests.
Providing driver orientations is also essential. The onboarding of new employees is a perfect opportunity to make sure new drivers understand your policies and processes and begin to understand your safety culture. Train every new driver on safety and driving skills from day one. This includes mandated U.S. DOT training for entry-level drivers in driver qualification, wellness, hours of service, and whistleblower protection.
Ongoing driver training is also critical to keep drivers aware of changing rules and regulations and remind them of the daily challenges of transporting cargo safely. Training improves the skills of your entire driver pool, helps retain drivers for the long term, and makes everyone safer. Ongoing training should include a regular schedule of courses to refresh driving skills.
Finally, it's important to reward drivers with incentives and recognition: in addition to encouraging safe driving practices, incentives reduce driver turnover. Popular incentives include annual safety bonuses for crash-free driving and mileage-based rewards and promotions. Driver recognition programs that reinforce your safety focus such as Driver of the Month or Driver of the Year awards are also effective.
Andrew Leavitt is the Senior Manager of Safety & Loss Prevention for Ryder System, Inc.
Companies in this article