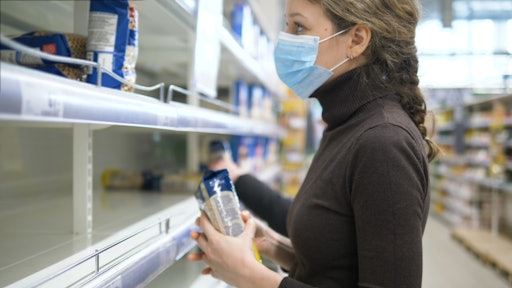 wifesun - stock.adobe.com
Despite social distancing, face coverings and tactics like one-way aisles, consumers remain wary about their safety in the supermarket. A new poll reports that nearly 75 percent of consumers are concerned about catching COVID-19 while grocery shopping. The survey also reveals high frustration with the shopping experience and suggests ways grocery managers can relieve pain points to gain customer trust. To understand consumer food perceptions related to the pandemic, Charleston|Orwig and Menu Matters polled 1,150 consumers across the United States.
"As more consumers are out and about, any activity is seen as a concern. Grocery shopping is no different," says Maeve Webster of Menu Matters. "Even though supermarket managers made positive changes during the pandemic, this survey shows they haven't yet fully addressed consumer concerns."
Key poll findings
74.9 percent of consumers report some degree of concern about catching COVID-19 while grocery shopping; 21.7 percent are "extremely concerned" and only 7.8 percent are "not at all concerned"
Nearly two-thirds of consumers find pandemic-era grocery shopping at least somewhat frustrating. Those most frustrated are women and older millennials who are more likely to have young children
Grocery delivery and pick-up continue to be a popular alternative to in-store shopping, with 50 percent of consumers using one or more options
Consumer buying habits continue to move toward canned, shelf stable and frozen items that allow for bulk storage and longer shelf life
Meat is the big winner with 40 percent of consumers reporting greater purchases now than before the pandemic started
How can retailers ease frustration?
"The good news is that food retailers have an opportunity to ease frustrations and, in the process, create a stronger connection with their customers," says Mark Gale, CEO of Charleston|Orwig. "Enhanced communication is what customers want. Digital channels are perfect vehicles." Poll responses revealed potential steps to improve customer satisfaction during the pandemic:
Notify customers of possible shortages and when out-of-stock products become available again
Improve usability of online ordering sites and apps for delivery and/or pickup
Allow customers to pre-order items that are currently unavailable
Train personal shoppers to understand customer preferences, especially when substituting
Shortages open opportunities
Virtually all respondents (93 percent) experienced out-of-stock situations while grocery shopping in the past month. Faced with these shortages, most substituted a different brand or product rather than skipping the purchase altogether. Interestingly, 58 percent of consumers who substituted items found a new brand they will continue to buy. That presents opportunity, Gale says. "This erosion of loyalty could be challenging for brands facing supply chain disruptions. But new brands and categories, including store or private label brands, may gain market share in this new environment," Webster adds.