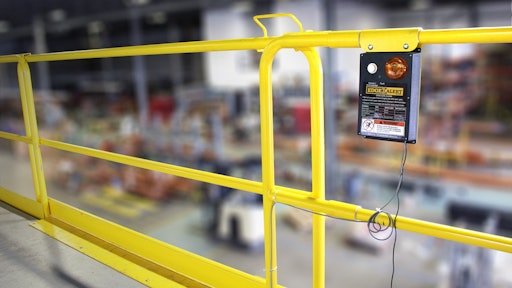 Wildeck
The people that power supply chain solutions deserve a powerful level of protection and defense. To that end, Wildeck Inc. is pleased to announce that a variety of their personnel safety products will be on display at MODEX's 2020 show in Atlanta, GA on March 9-12. Located in booth 5014, trade show attendees are invited to come and learn how Wildeck's durable safety solutions keep the industry and, most importantly, its people operational.
Many companies utilize elevated storage systems to maximize the potential of their facility's space. To help ensure that workers are protected from potential fall hazards, Wildeck has developed a comprehensive line of pallet access gates that easily integrate with new and existing mezzanines, pick modules and rack systems. During MODEX's 2020 show, Wildeck will have functioning demonstration units of its Pallet Drop Zone (DZ) Safety Gate, Finger Gate, Impact Gate and Swing Gate (equipped with the innovative EdgeAlert Open Gate Alarm) on display. In addition to protecting employees from safety hazards, these gates have been specifically designed to fit into areas where space optimization is key.
Forklifts, AGVs and other material handling vehicles are commonplace in manufacturing facilities and often operate in close proximity to employees. Wildeck's Wilgard Steel Guard Rail Systems offers three powerful choices (XTra Tough, Medium Toughness and Lighter Toughness) for protecting pedestrian traffic. Made in the USA, Wildeck's Wilgard products are precision formed from high strength steel and painted safety yellow to provide a highly visible protective barrier. A team of Wildeck's facility safety experts will be on hand throughout the duration of MODEX 2020 to discuss the strategic integration of guard rail at your facility.