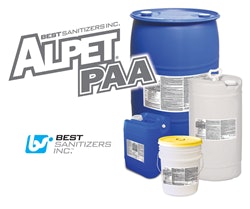 Best Sanitizers Inc.
Best Sanitizers, Inc., Nevada City, Calif., released a new line of peracetic acid products, designed to help reduce the risk of pathogens in food and beverage processing.
Alpet PAA 5.6% is an antimicrobial agent for food contact surfaces, conveyers and equipment for meat, poultry, seafood, fruit, nuts and vegetables, as well as casings, shell or hatching eggs and more. Alpet PAA 5.6% is highly effective against a broad range of microorganisms, boasts an NSF-listed D2 classification and is OMRI, Kosher, Pareve and Halal certified.
Maximize the cleaning power of Alpet PAA 5.6% with the foaming additive Perafoam, a high-foaming concentrate specially designed for use in conjunction with Alpet PAA 5.6%. It is a foam booster additive that clings well to vertical surfaces of equipment, tanks and drains, and prolongs dwell time. Perafoam contains only food-grade ingredients.
Alpet PERA FC 15% is an FDA-approved antimicrobial product specifically formulated for use in ice and water that directly contacts meat, poultry, seafood, fruits and vegetables.
And, the new Alpet PERA FC 22% is a concentrate version of Alpet PERA FC 15% developed for use in federally inspected meat, poultry and seafood processing locations.
Both Alpet PERA FC 15% and Alpet PERA FC 22% can be used in washes and brines, water or ice that contacts non-raw fruits and vegetables and water or ice used to commercially prepare or store seafood.