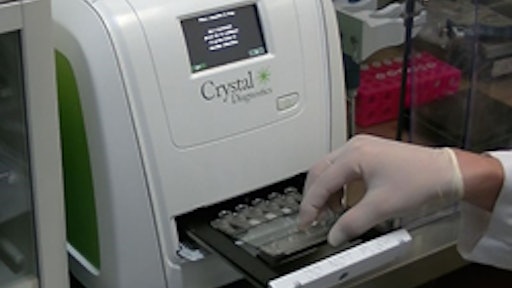 Crystal Diagnostics (CDx) announced that the US Patent and Trademark Office (USPTO) issued the company a second patent related to proprietary liquid crystal technology for rapid and accurate detection of foodborne pathogens.
The Notice of Allowance compliments another patent from the USPTO issued on December 3, 2019. Together, these patents protect the company's liquid crystal technology currently being incorporated in a fully automated, high throughput rapid pathogen detection platform, AutoXpress™, scheduled for market release in April of 2020.
According to CDx President and CEO Jim Bruce, "This new development in our technology allows for detection of a very low concentration of pathogens, decreasing overall test time, improving detection accuracy, and allowing automation."
CDx researchers began developing a rapid pathogen system based on liquid crystal technology over ten years ago after licensing patents from Kent State University and Northeast Ohio Medical University (NEOMED).
"These new patents describe a novel approach to detection based on a 'sandwich' complex formed by beads of different sizes attached to a captured pathogen," explains Dr. Luana Tortora, Ph.D., Director of Materials Research and Development for CDx.
Dr. Tortora is a leading expert in liquid crystal technology with over 15 years of experience. She added, "This approach to detection is based on a signal amplification attained with a two-steps process, as smaller size magnetic beads allow the concentration of the pathogens, while larger size polymer beads are able to create a detectable distortion in the liquid crystal. With this development, CDx now has broader detection capabilities regarding the number and size of target pathogens while utilizing a fully automated platform."
The company has over twenty accreditations for liquid crystal-based rapid pathogen detection applications from AOAC, the world's leading accreditation authority for laboratory equipment. These AOAC accreditations include the rapid detection of pathogens such as Listeria, Salmonella, and E. coli in meat, produce and other food types.