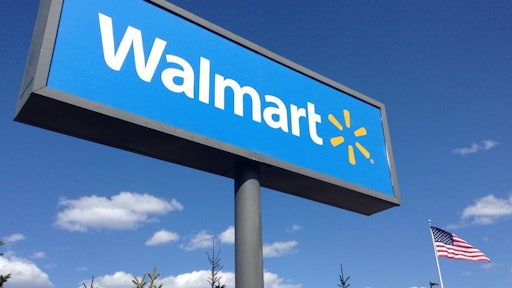 Flickr
Walmart is improving its produce supply chain.
At a conference, the company's executive vice president and chief merchandising officer Steve Bratspies said that the retailer has spent a lot of time on produce.
"We're headed towards our national meeting with all of our store managers in two weeks at Indianapolis... and we're going to show them Produce 2.0, which is the next set, and take that even further," Bratspies teased.
No detail of Produce 2.0 has been revealed as Walmart has yet to talk to store managers about the initiative, The Packer reports. It is rumored that customers will have a more visual set and experience inside the store, however.
Walmart has been improving its supply chain, requiring that all suppliers put food on its blockchain system. For the last two years, the company has been running tests with International Business Machine Corp.'s blockchain platform. Walmart is now ready to use the technology on its grocery business, according to Frank Yiannas, the retailer's vice president of food safety and health.
Meanwhile, the retailer has improved produce processes in stores as well. Bratspies told attendees that the process of how associates cull and stock merchandise is different as well.
However, Walmart still aims to improve, saying that it is a journey rather than a destination to reach best practices.
"You never actually get there and there's always things you can do to improve, and we're continuing to work on all of those things, but we're starting to see some momentum in the business," Bratspies said. "We like where we are. And with Produce 2.0, which we're going to talk to our managers about, we're going to go even further."