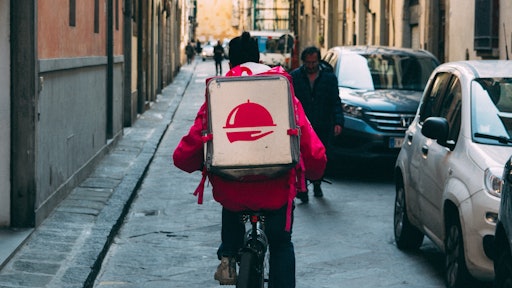 Unsplash
Temptations get the best of us sometimes - but the people that need to resist the most are food delivery drivers.
A survey conducted by US Foods found that 30 percent of drivers admit to stealing a bite of food that they're responsible for delivering. The survey gathered information from 500 food delivery drivers and more than 1,500 customers in America who order through apps like DoorDash, Postmates, Grubhub and UberEats.
According to NPR, respondents ranged from 18 to 77 years old, with a median age of 31. Drivers who reported working for a food delivery app had a median age of 30.
Of the drivers surveyed, 54 percent reported that they have been tempted by the smell of a customer's food, while half of that figure actually stole a bite.
"We're sorry to report that sometimes, impulse gets the best of deliverers, and they violate their sacred duty by taking some of the food," US Foods said in a statement.
On a scale of one to 10, with one being "no big deal" and 10 signifying "absolutely unacceptable," the average customer response was an 8.4 our of 10 - indicating that most people don't want their food tampered with.
To attempt to prevent drivers from stealing some of their food, 85 percent of customers recommended adding tamper-evident labels or packaging to their containers, NPR reports. Meanwhile, some delivery services, such as Postmates, already have strategies in place.
"Each person who completes a delivery using Postmates to expressly agree that all food and goods delivered will arrive in a tamper-free form and in compliance with all applicable food health and safety laws," Postmates said in a statement.
Meanwhile, UberEats' delivery guidelines say that it will deactivate any account that has fraudulent activity or misuse. Doordash will also deactivate a driver's account if a customer suspects food tampering.