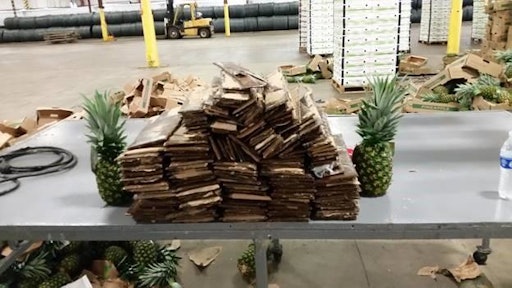 Over 99 pounds of cocaine hidden away in pineapples was seized by U.S. Customs and Border Protection earlier this month. The pineapples, from San Carlos, Costa Rica, were destined to Clifton, New Jersey.
The CBP Wimington Advanced TArging Unit, U.S. Coast Guard targeting unit and Delaware National Guard Counter-Drug Taskforce CBP Liaison all targed the shipment, with a K9 alerting the shipment to be further inspected.
"Part of CBP's mission is to prevent illicit narcotics from entering the U.S. utilizing all the resources at our disposal - technology, K9s, CBP officers and our law enforcement partners, says Casey Durst, CBP's field operations director in Baltimore. "This interception is a great example of the results we can accomplish working with our partners across the law enforcement community."