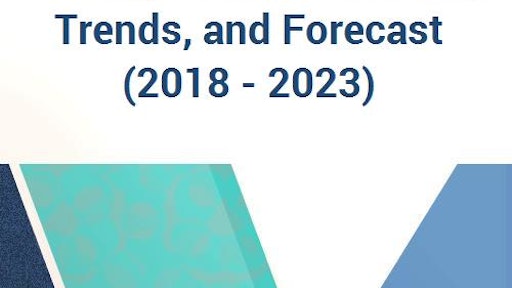 The global food safety testing market is expected to witness a CAGR of 7.2 percent during the forecast period of 2018-2023, according to a new report, The Global Food Safety Testing Market 2018: Opportunities & Challenges to 2023. The market was valued at $11.53 million in 2016.
Food supply and quality of food are under constant threat globally, causing this growing demand for effective test products that can ensure food safety.
The practice of food safety testing has gained considerable significance over the past years, owing to growing incidences of food-borne illnesses and poisoning by contaminated food products. This necessitates the robust and effective system in place to ensure food security as well as food safety.
The report touches on a number of challenges and opportunities in the market. Key findings include the following:
Rising Healthcare Cost due to Lacunas in Food Safety Testing
Consumer choice is key for any food-based industry, as the consumers safety, health concerns and preferences always drive the food market. The additional burden in the form of rising healthcare cost and increasing out-of-the pocket expenditure on healthcare by commoners has prompted the governments and regulatory authorities to set a robust food safety policy.
Consumer organizations and other non-profit government organizations are also a driving force behind food safety policy. Each of these organizations advocate for food safety in a different way, while one focuses on presenting information through science and research, another focuses on showing the real-life impacts of food-borne illness on families, while yet another focuses on consumer education.
The restraining factors for the market are: microbiological testing often requires long time to get the results, which affects manufacturers and delays product marketing. Tough rapid testing has eased the testing market, but its high cost is affecting the market growth. Moreover, multiple test methodologies required by various regulations is another restraining factor for the food safety testing market.
Rising Consumer Awareness Amidst Food-borne Illness Incidences
Globally, incidences of food-borne diseases are increasing at a high rate, and the most common cause of outbreaks are Salmonella, E. coli, Staphylococcus aureus, Vibrio cholera, Campylobacter and Listeria. Over the past few years, the world saw an unprecedented outbreak of food-borne illnesses. The Center for Disease Control and Prevention (CDCP) has reported that every year, one in 10 people fall sick due to food-borne illness, most importantly, children under five years of age are at a high risk. Major food-borne disease outbreaks have occurred in every continent in the past decade, often amplified by globalized trade. Such incidences have made companies incur heavy loss of sales and brand equity, making consumers aware about the potential health-hazards. The key players of food safety testing are now focusing on research and development in order to bring safe food to the consumers.
Pathogen-Testing Type Leads the Overall Market
Pathogen testing dominates the food safety testing market, with fruit and vegetable testing for contaminants being the largest application area. Pathogens are harmful microorganisms that cause deterioration of food quality and trigger serious health issues. Recent concerns about microbial contaminants, such as E. coli and Salmonella, have driven the pathogen safety testing market. Pathogen testing is growing at a faster rate in the food safety testing market due to the serious health effects of pathogens and the immediate retardation of the quality of food products.
Asia-Pacific Poised at Highest Growth Rate
North America constituted the largest food safety testing market in 2016. Regarding growth, the Asia-Pacific market for food safety testing is likely to record the fastest compounded annual rate, primarily driven by the increase in testing procedures from the potential regions of China and India. The scientific investigations/reports on outbreak of food-borne diseases in the region over the past 29 years, due to adulteration and chemical and microbiological contamination, have forced authorities to concentrate on the issue of food safety. Authorities, like Food Safety and Standards Authority of India and China Food and Drug Administration (CFDA) have been established to take serious steps toward ensuring food safety.