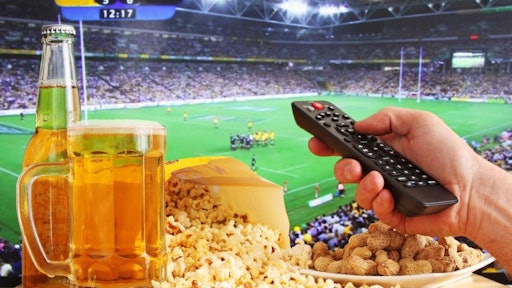 A majority of food and beverages marketed through television and online sports sponsorships are unhealthy and may be contributing to the obesity epidemic among children and adolescents in the U.S.
Researchers analyzed Nielsen statistics of televised sports programs among children 2017 years old and found that the 10 most watching sports organizations featured "unhealthy" food products under the guidelines of the Nutrient Profile Model.
The NPM system assigns a score to all foods on a 1-100 point scale called the Nutrient Profile Index. An NPI of 64 or higher indicates the product is "nutritious." When NPI scoring was applied to food promoted through sports sponsorships, reseachers found that more than three-quarters failed to meet the minimal stands over nutrition. The average score or promoted foods like potato chips and cereals was 38-39.
The NFL led all organizations with 10 food and beverage sponsors that concerned researched with its child-targeted themes. MLB, NBA and the NCAA had four each.
The NFL also led the number of television impressions from its ads among viewers aged 2-17.
To read the full original article, please click here.