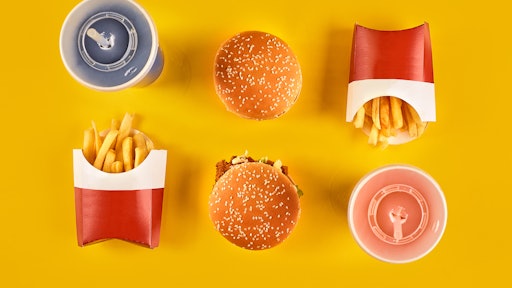 Getty Images
A new report compares the food and beverage industry to Big Tobacco, claiming that it has influenced a global obesity epidemic, along with malnutrition and climate change.
The Lancet Commission on Obesity blamed a growth-focused sector that feeds on empty calories and misuses land, energy and other industry, Bloomberg reports. The report called for restricting the industry from policy-related discussions. The 43-member panel said the food companies' lobbying prowess are one of the reasons for nutrition recommendations that have run counter to scientific evidence.
The beverage industry responded by saying that numerous companies have moved to improving public health by offering lower-and no-calorie drinks, smaller packaging and responsible marketing.
"It's unfortunate that the authors of this article take a restrictive and exclusionary approach to broad problems," the International Council of Beverages Associations said in an emailed statement to Bloomberg.
The Lancet report says that unsustainable approach to agriculture and food production that feeds obesity and malnutrition also contributes to climate change.
Bloomberg reports that the group is requesting a treat that would exclude the food and beverage industry from policy development since food production is one of the largest contributors to climate change, similar to WHO's global conventions on tobacco. The report also suggests taxing red meat to reduce consumption, claiming it would benefit the entire supply chain: reducing greenhouse gas emissions, opening up more land for sustainable agriculture and healthier consumers
The food and beverage industry has been involved in issues such as nutritional requirements, labeling information and advertising. However, an alternative business model could be created to help more businesses within the industry shift toward healthier product, reducing plastic packaging and carbon emissions.
To read the full original article, please click here.