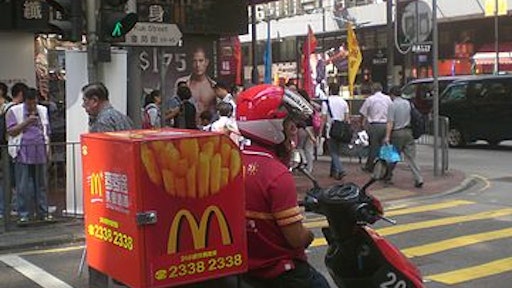 Food delivery is one of China's fastest-growing industries, fueled by the success of meal-order applications that offer a vast variety of dining options, delivery under 30 minutes and couriers that don't expect tips. Behind this thriving industry is an army of motorized couriers, many of whom are migrants from rural China, often riding cheap electric mopeds that do not require a driving license.
In September, Reuters estimated there are about three million delivery drivers in China. A few years ago, these drivers would have likely gone to work at China's many factories. The move is mirroring the transformation of the Chinese economy, from dependency on mass production to a service-based economy. While new, however, these service jobs aren't necessarily better than the old factory jobs.
Similarly to factory workers, couriers work long hours for low wages and have a low social status. In many cases, these couriers aren't employed directly by the companies whose branded shirts they wear, but by subcontractors.
To read the full original article, please click here.