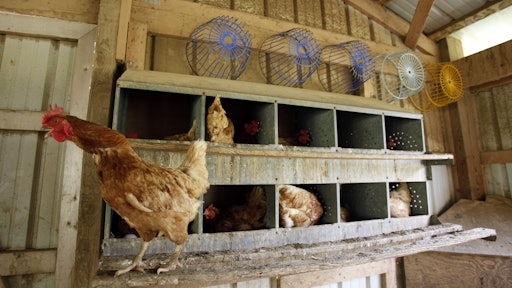 Follow-up sampling will be required beginning next year for all poultry processing plants that do not meet Salmonella control performance standards, according to a notice from the USDA's Food Safety and Inspection Service (FSIS).
FSIS announced in a Dec. 16 notice that the new follow-up protocol for testing, referred to as sampling by the government, will take effect Jan. 13, 2017. The current performance standards for Salmonella and Campylobacter in not-ready-to-eat comminuted chicken and turkey products, including raw chicken parts, have been in effect since Feb. 11.
The current allowable percentage positive rate for carcasses is 9.8 percent for young chicken and 7.1 percent for turkey during any completed 52-week moving window over the past three months.
Beginning on the start date next year, if Salmonella levels are exceeded, the poultry plants will be required to schedule carcass follow-up testing as soon as possible.
For additional details about the updated FSIS requirement, view the original article at www.foodsafetynews.com/2016/12/followup-tests-begin-jan-13-at-poultry-plants-failing-standards/#.WFlkSFMrLb0.