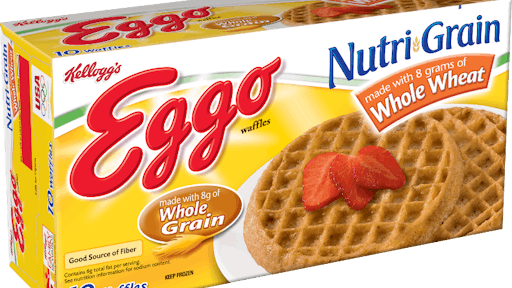 The Kellogg Co. is recalling 10,000 cases of Eggo waffles from 25 states after routine testing by the company revealed Listeria monocytogenes in the toaster waffles.
All of the recalled Eggo waffles are Nutri-Grain Whole Wheat flavor, according to a notice posted by the company. No other Eggo products are implicated.
As of Monday, the Kellogg Co. had not received any reports of illness related to the recalled Eggo Nutri-Grain Whole Wheat waffles.
Wholesale customers and retailers in 25 states received the recalled Eggo waffles. Those states are: Colorado, Connecticut, Delaware, Georgia, Iowa, Illinois, Indiana, Kansas, Massachusetts, Maryland, Maine, Mississippi, Minnesota, Missouri, North Dakota, Nebraska, New Hampshire, New Jersey, New York, Ohio, Pennsylvania, Virginia, Vermont, Wisconsin and Wyoming.
Consumers can identify the recalled Eggo waffles by date codes on the side of the 12.3-ounce, 10-count packages. The recall is for Nutri-Grain Eggo waffles with date codes of Nov. 21, 2017, or Nov. 22, 2017. The recalled waffles also have the UPC number 38000 40370.
"The recall is a result of routine tests that the company conducts which identified the potential for contamination," according to the alert from the Kellogg Co. "As soon as the company learned of a potential concern, it moved quickly to identify any foods that might be impacted and resolve the issue.
"Kellogg is asking that people who purchased affected product discard it and contact the company for a full refund. Consumers can call 800-962-1413, Monday through Friday, 9 a.m. to 6 p.m. EDT or by visiting https://www.kelloggs.com/en_US/contact-us.html.
Listeria monocytogenes can cause serious and sometimes fatal infections in young children, frail or elderly people, and others with weakened immune systems. Although healthy individuals may suffer only short-term symptoms such as high fever, severe headache, stiffness, nausea, abdominal pain and diarrhea, Listeria infection can cause miscarriages and stillbirths among pregnant women.
To read more, click here.