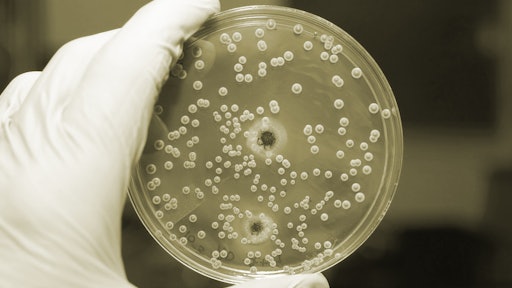 With four steps, Wal-Mart Stores Inc. has taken a giant leap in poultry food safety, reporting a decrease of the frequency of Salmonella contamination of chicken parts to 2 percent, according to Food Safety News. The multi-national retailer has been working with its U.S. chicken suppliers on stepped-up food safety requirements since December 2014. Suppliers of chicken parts such as drumsticks, breasts and thighs had until June this year to implement Wal-Mart's four-part plan.
The plan is working, said Frank Yiannas, Wal-Mart's vice president for food safety. Before the new supplier requirements went into effect, 17 percent of the chicken parts provided to Wal-Mart were positive for Salmonella. By January this year that number was cut to 5 percent.
By June this year, only 2 percent of chicken parts from U.S. suppliers were testing positive for Salmonella, Yiannas said last week during a presentation at the annual conference of the International Association for Food Protection (IAFP).
Yiannas cited statistics from the Centers for Disease Control and Prevention as part of the motivation behind Wal-Mart's focus on Salmonella and Campylobacter contamination of chicken.
To read more, click here.