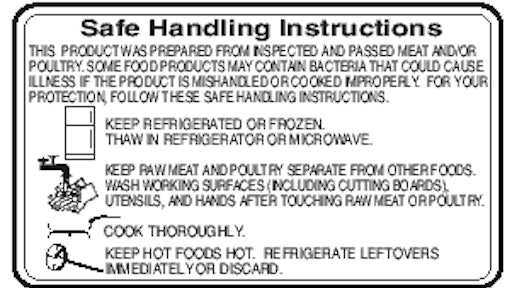 The Safe Food Coalition has requested that the U.S. Department of Agriculture's Food Safety and Inspection Service (FSIS) initiate rulemaking to revise the requirements at 9 CFR 317.2 (l) and 9 CFR 381.125, which describe the current mandatory safe food handling instructions (SHI) label for raw and partially cooked meat and poultry products, and to add requirements for a SHI label for all raw or partially cooked siluriformes fish, including catfish products.
The revised rules should continue to require that labels provide information about the potential risk of pathogenic contamination of USDA products. They should further require that labels provide more specific information about safe handling practices for meat, poultry and catfish products, including:
An end-point temperature for raw and partially cooked product categories (intact meats, non-intact meats, poultry, catfish), as well as any "rest time" requirement.
Instructions to use a thermometer to verify the product has reached the recommended internal temperature.
Information on safe handling practices to minimize risks associated with improper sanitation, handling, storage, and temperature control for meat, poultry and catfish products.
The four core "Check your steps" safe food handling graphics featured on the www.foodsafety.gov website, instead of the graphics currently displayed.
A web address for additional information on meat, poultry and catfish cooking recommendations. 1 In addition to these content requirements, the revised rules should mandate that labels:
Use easily legible type located away from curved or seamed areas of packages.
Use bold or large font for end-point temperatures and "rest time" instructions. An abundance of research on how consumers understand labeling information, on common food handling practices and associated risks, and on the survival rates of pathogens at specific end-point temperatures, demonstrate that these reforms would benefit consumers and help to significantly reduce foodborne illness.
To read more, click here.