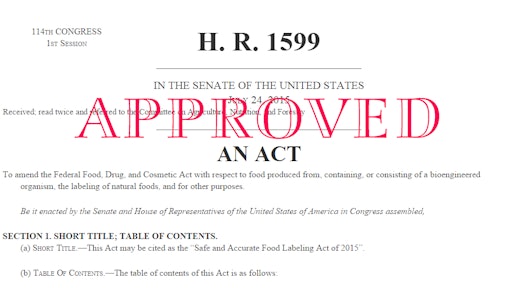 On Tuesday the Senate Agriculture Committee approved the Safe and Accurate Food Labeling Act, also known as SAFE, which would prevent states from passing mandatory food labeling laws for genetically modified organisms, including one such law scheduled to go into effect July 1 in Vermont, according to The San Francisco Chronicle.
Fourteen of 20 members of the committee, including three Democrats, voted in favor of the markup of the bill by Chairman Pat Roberts, R-Kan.
Opponents of the bill, who call it the Deny Americans the Right to Know Act, or the DARK Act, say it preempts state law and keeps consumers from getting information they want about their food. The legislation, which does not prevent companies from providing voluntary labeling, will now go to a vote on the Senate floor.
"Let the buyers make up their mind," said Sen. Patrick Leahy, D-Vt., who voted against the bill. In the committee meeting, he also said the legislation was too rushed. "You seem to be saying to the world that GE producers have something to hide."
To read more, click here.