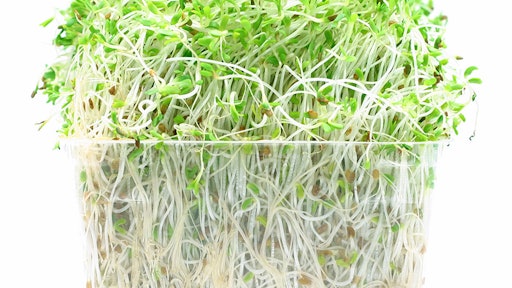 A Salmonella outbreak linked to alfalfa sprouts has sickened at least 13 people in four states, according to the Centers for Disease Control and Prevention (CDC), according to Food Poisoning Bulletin. Five people have been hospitalized.
Health officials have linked the illnesses to alfalfa sprouts produced by Sweetwater Farms has recalled lot 042016 voluntarily, according to the Kansas Department of Health and Environment. State and federal health officials advise consumers not to eat and retailers not to sell or serve alfalfa sprouts from Sweetwater Farms.
Symptoms of a Salmonella infection, which include nausea, vomiting and diarrhea that can be bloody, usually develop within six to 72 hours of exposure and last about a week. For some people the diarrhea and vomiting can be so severe it causes dehydration, and hospitalization is required. If the infection travels from the gastrointestinal tract to the bloodstream more serious, life-threatening complications can occur.
To read more, click here.