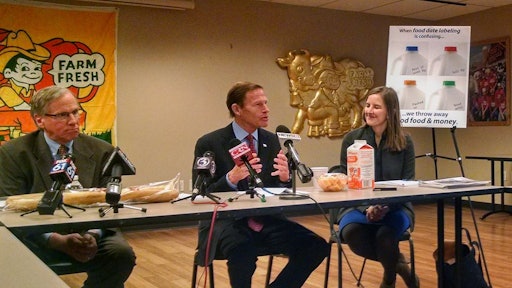 Sen. Richard Blumenthal, D-Conn., is introducing legislation to establish standards for "sell by" dates that some say could save billions and combat food waste in America, according to The Hartford Courant in Hartford, Conn.
New federal food labeling standards to let consumers know how long food can actually be safely eaten would save billions of dollars in usable food that's now being thrown away, said a panel of experts who gathered at a Stew Leonard's store on Thursday. Food bank officials, environmentalists, academics and food industry representatives met to support Blumenthal 's new legislation aimed at establishing a uniform federal food dating system.
Blumenthal said the current hodgepodge of state laws on food dating has created confusing labels "that fail to reflect what consumers think they mean." Legislation similar to the bill Blumenthal is proposing has already been submitted in the U.S. House, and he said both measures face an "uphill fight" in an often-gridlocked Congress despite expected food industry support.
Experts said such date terms as "use by" or "sell by" and "expires on" that are now often required by states for food labels have little to do with food safety and have produced such confusion that an estimated 90 percent of Americans throw away still-edible food.
To read more, click here.
Editors Insight: This proposed legislation addresses an important issue that merits the food industry's consideration. Many consumers assume that the "sell by" date reflects the product's safety expiration when in fact it does not.
National standards for a more accurate indication of safety expiration would not only protect safety, but save a lot of valuable resources in reducing the huge amount of food waste.
Steve Armstrong, chief food law counsel for Campbell Soup Co., notes in this report that it is hard for food companies to donate food to food banks because of the varying state laws governing food dating.
According to foodshare.org, a Bloomfield, Conn.-based organization that fights hunger, the FDA and the USDA do not require that foods be date-labeled, with the exception of infant formula. States, on the other hand, can regulate date labels in any way they wish and according to Foodshare.org, there are extreme variations among the 50 states.
The FDA allows manufacturers to stamp product with a date to help the seller determine how long to display the product and help the consumer know how long to use the product, but it is not intended to be a food safety date, according to Foodshare.org. The only rule is that if a manufacturer uses a date, the FDA allows coded letters and numbers on shelf-stable products or, if a calendar date is used, the FDA requires the month, day and year and a phrase explaining the date's meaning. 2-19-16 By Elliot Maras