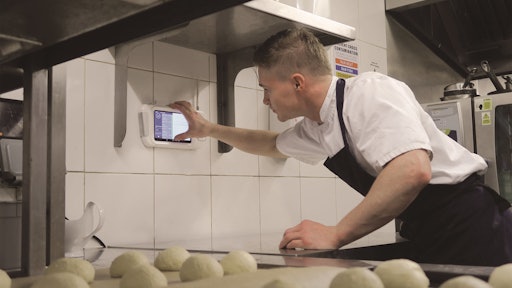 What's in a Label?
Some significant rule changes have been in the spotlight at the Food and Drug Administration (FDA), and they are of particular interest to food service operators. These changes, now expected to be implemented next year, regard food product and menu labeling, which will affect grab-and-go products. Grab-and-go food is by many measures the fastest-growing sector in the food service industry.
Although the new menu labeling provisions have not yet taken effect, they are actually part of the Affordable Care Act, signed into law by President Obama in 2010. Under the act, restaurants and retail food establishments with 20 or more locations, doing business under the same name at each location, and marketing the same or similar food products in each location are required to display information such as the number of calories and essential nutrients in a food item.
The reason for the labeling changes, according to the FDA, is to "help consumers make informed and healthful dietary choices." However, some food service operators and retailers have asked the government to give them more time and more leeway in implementing the changes, requesting that the final ruling on labeling requirements be "more flexible and less burdensome." The FDA initially planned to have a final ruling by May of this year but has extended the deadline to May 2018.
New Food Labeling Technologies
Given the size and the diversity of the food service industry, the pushback that the rule has received is understandable. However, what many food industry operators may not realize is that new technologies already exist that make addressing the proposed labeling requirements far easier and certainly "less burdensome." In fact, such systems were on display at the recent National Restaurant Association (NRA) trade show in Chicago.
According to Jill Carte of DayMark Safety Systems, one manufacturer of food labeling technologies exhibited its systems that provide nutrition analysis and menu management for food product processors, suppliers retailers.
Carte says that these technologies provide food service operators and their customers with more detailed and accurate information on food items such as grab-and-go food, which is often sold in convenience stores, on college campuses, in quick service locations, and even in hotels and convention centers. "Providing this information adds greater transparency, helps build [consumer] trust, which in turn helps food service operators more successfully market grab-and-go food products," adds Carte.
Besides helping food service operators meet the proposed FDA regulations on food labeling, these new technologies can also assist those food retailers with multiple locations in seamlessly making labeling changes. "[These] new platforms allow multiunit operators to communicate with locations," Carte says. "This synchronizes menu and recipe updates as well as associated labeling modifications so that changes made by corporate headquarters, for example, can be updated at all locations at the same time."
Labels to Help Minimize Food Waste
Another labeling change food operators and convenience retailers should be aware of involves the expiration date placed on food items, including grab-and-go food products. Traditional terms such as "sell by" and "use by" are likely to be replaced over the next few years with the term "best if used by."
While this wording change is not part of the FDA's proposed rules on food labeling, enough organizations in the food processing, retail, and grocery industries appear to be behind the change—which was recommended by two food industry groups, the Food Marketing Institute and the Grocery Manufacturers Association—that it will likely go into effect without the need for federal or state rules or regulations. This terminology change should assist the food industry in eliminating widespread consumer confusion about what the expiration dates really mean.
The uncertainty about expiration dates has resulted in many food items being taken off shelves and thrown out, even though they are still perfectly edible and safe. According to some reports, as much as 50 percent of all produce in the United States and about one-third of all prepared food items are simply thrown away while they are still edible and marketable. This represents an estimated $160 billion in food waste annually, which is often tossed into landfills. In fact, discarded food items are now the single biggest occupant of American landfills.
As with the advances in food labeling, it is likely that the introduction of more robust technologies that monitor food temperature can also help reduce food waste. Such systems were also on display at the recent NRA show. Using monitoring sensors and online "dashboards," these systems can even e-mail and text food processors (staff) about the temperature of food items, ensuring that they are stored at proper, predefined temperatures and helping food processors remain HACCP-compliant.
Labels and Sales
A study by Innova Market Insights, which, among other things, follows trends in the food service industry, finds that labels in general, and effective labeling in particular, are necessary to help market food products. Three-fourths of consumers in the United States claim to read food labels, according to researchers at Innova. Most consumers do this because they "are increasingly trying to be health-conscious and informed about what they eat."
Mirroring what Carte said earlier about the importance of food labels in helping market food items, the researchers also report that once consumers know what is in a food product—based on what they read on the label—they feel more comfortable purchasing it, helping the food industry operators to market the product and gain the trust of the consumer. And when that happens, all parties benefit.
What is HACCP? While we see "HACCP" mentioned frequently in the food service industry, some of us may not know exactly what it references. HACCP, or Hazard Analysis Critical Control Points, is a systematic approach to food safety with the goal of eliminating any biological, chemical, or physical hazards in the food production process that could render the finished product unsafe. Instead of putting the greatest importance on inspecting the finished food product, emphasis is placed on the actual production of the food product. Often, managing this food safety is very dependent on the use of advanced food temperature monitoring systems.