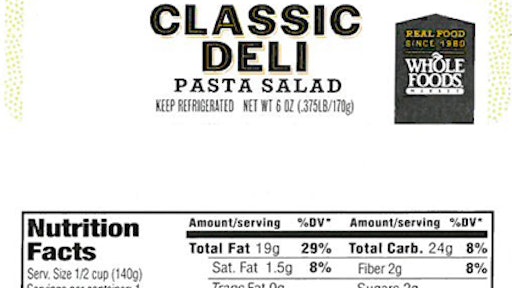 Whole Foods Market has recalled bulk and packaged Curry Chicken Salad and Classic Deli Pasta Salad for possible Listeria contamination, according to Food Safety News. The recall was issued by Whole Foods Market out Cambridge Mass. The recall involves Whole Foods in Maine, New Hampshire, Massachusetts, Rhode Island, Connecticut, New York and New Jersey.
A sampling of the products tested positive for Listeria Monocytogenes during a routine inspection of Whole Foods Market's North Atlantic Kitchen facility.
The recall notice said the recalled products have "the potential to be contaminated with Listeria Monocytogenes" Listeria is a pathogen that can cause serious and sometimes fatal infections, especially in young children, frail or elderly people, and others with weakened immune systems. Others may suffer only short-term symptoms such as high fever, severe headache, stiffness, nausea, abdominal pain and diarrhea, Listeria infection can cause miscarriages and stillbirths among pregnant women. Anyone with symptoms should seek immediate medical care if they develop these symptoms.
To read more, click HERE.