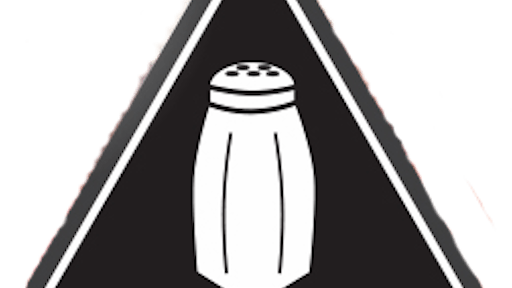 The Center for Science in the Public Interest is taking the Food and Drug Administration to federal court over the agency's failure to act on a 10-year-old petition asking the agency to reduce the excess salt—the main source of sodium—in the food supply. The nonprofit food safety and nutrition watchdog group says that the FDA's failure to reduce the sodium in packaged and other foods is contributing to tens of thousands of premature deaths annually due to stroke, heart disease, and other health problems. The average American consumes about 3,650 milligrams of sodium per day, far in excess of the 2,300 milligram limit recommended by federal dietary guidelines, or the 1,500 milligram limit recommended for certain subgroups, including children, people over 50, African Americans, and people with hypertension, kidney disease, or diabetes.
"For more than 35 years, FDA has dragged its feet and refused to do anything to protect Americans from excess sodium in the food supply," said CSPI President Michael F. Jacobson. "The government's inaction condemns hundreds of thousands of Americans to early deaths due to preventable strokes and heart attacks."
CSPI's 2005 petition asked the FDA to revoke salt's status as a "generally recognized as safe," or GRAS, substance, and to treat it as a food additive under the law. The petition specifically urged the agency to require food manufacturers to gradually reduce the amount of sodium in different categories of processed food, and to require health messages on retail packages of table salt one-half ounce or larger.
CSPI has been calling on the FDA to protect Americans from excess sodium consumption for decades. In 1978, it first urged the agency to revoke salt's GRAS status. After several years of inaction and a 1983 lawsuit by CSPI, the agency promised to consider additional regulatory actions to reduce sodium if the food industry failed to reduce sodium sufficiently on its own. While dismissing CSPI's claim, the court in that case indicated that the FDA would be required to make a decision on salt's GRAS status after voluntary efforts had been given sufficient time to be assessed. CSPI again sued the agency in February of 2005 for its failure to act, and the court indicated that the organization would need to re-file its petition for the court to consider the case. CSPI filed its 2005 petition in November of that year. Throughout all of those years, and specifically between 2005 and 2015, Americans' sodium intake has continued to climb—a sign that the voluntary approach urged by the FDA and the food industry has failed, CSPI says.
In 2007, FDA published a Federal Register notice, convened a public hearing, and opened a comment period on CSPI's petition. Since that time, the agency has failed to act, according to CSPI. The complaint, filed today in United States District Court for the District of Columbia, says this delay violates the Administrative Procedure Act, which requires federal agencies to approve or deny petitions in a timely manner.
Though some food products have posted modest reductions in sodium over the past 10 years, other products have been reformulated to have even more sodium. Schmidt's Potato Rolls, for instance, have 47 percent more sodium in 2015 than they did in 2005. Whole Foods' 365-brand 4-Cheese Pizza contains 30 percent more sodium than it did in 2005. Restaurants, too, are making uneven progress. A 2014 CSPI analysis of menu data found that the nation's top 25 restaurant chains failed to reduce sodium levels in almost 3,000 menu items. For example, between 2012 and 2014, Chili's actually increased sodium in its Loaded Baked Potato Soup by 57 percent, and Taco Bell increased the sodium in its Cheesy Nachos by 48 percent. IHOP posted a 9 percent increase in sodium across 129 menu items. That chain's Classic Breakfast Crepes have 2,300 mg of sodium—an entire day's worth.
While companies such as Walmart, Unilever, and Cargill have made sodium reduction a priority and achieved significant gains, the lack of FDA action means population-wide reductions necessary to reduce sodium-related diseases have not been achieved.
In April 2010 the National Academies' Institute of Medicine issued a major report outlining strategies to reduce sodium intake. It strongly endorsed the idea of mandatory reductions in packaged and restaurant foods phased in over time.
"Food companies are putting far too much sodium in processed food in the factory, and we are all paying for it with unnecessarily high rates of hypertension, heart disease, and stroke," said former New York City Health Commissioner Tom Farley, now CEO of The Public Good Projects. "It's high time for the FDA to protect Americans from this risk."
"I hope that CSPI's lawsuit succeeds in spurring long overdue action that will save thousands of lives a year by reducing sodium in our food supply," said Frank Sacks, professor of cardiovascular disease prevention at the Harvard T. H. Chan School of Public Health.
Representing CSPI in court are Public Citizen attorneys Julie Murray and Allison Zieve. The FDA is required to respond to CSPI's complaint by December 7.
"The Food and Drug Administration has been promising results on sodium reduction since the Reagan Administration and our petition has been pending since the George W. Bush Administration," Jacobson said. "It is our hope that the court will tell the Obama Administration that it is breaking the law and causing needless deaths and medical expenses by stalling on salt."