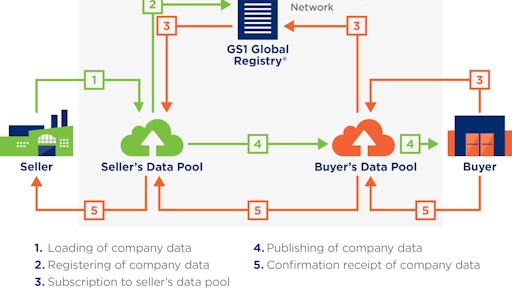 The Global Data Synchronization Network (GDSN), which has been enabling trading partners to globally exchange product information in an automatic and efficient way for more than a decade, plans a major release in 2016 that will impact users in the food and beverage supply chain. The GDSN is part of the GS1 System of Standards—the most widely-used supply chain standards in the world. The system enables a common language to identify, capture and share product information, ensuring better data quality and greater efficiencies.
With the GDSN, food manufacturers, distributors, retailers and operators have access to the same continuously refreshed data. The role of GDSN is to help ensure the most accurate product data is shared between trading partners in an efficient approach, and connects the physical flow of goods and services to the flow of information.
The August Food Logistics advises readers about a new GDSN release planned for 2016 in an article by Angela Fernandez, vice president of retail grocery and foodservice at GS1 US.
Currently, information such as package measurements, nutrients, ingredients, allergens and whether the food is gluten-free, Kosher, Halal, vegan or organic for 579,000 food items is synchronized in the network in the U.S., and the number of items continues to grow every day.
To read the full article, click HERE.