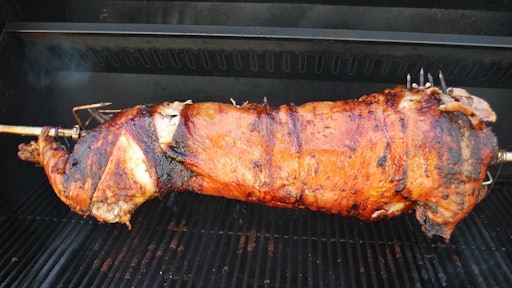 A Salmonella outbreak that has sickened 90 people in Washington has triggered a USDA public health alert for whole pigs used at pig roasts, according to Food Poisoning Bulletin. The whole pigs used for pig roasts have been associated eight Salmonella I 4,[5],12:i- illness clusters throughout the state.
Symptoms of Salmonella poisoning include diarrhea that can be bloody, fever, chills, abdominal pain and vomiting. For some people, serious bloodstream infections can also occur. Case patients in Washington report onset of illness dates ranging from April 25, 2015 to July 21, 2015. A team from the Centers for Disease Control And Prevention (CDC) is joining the investigation in Washington state this week.
"Roasting a pig is a complex undertaking with numerous potential food handling issues," the U.S. Department of Agriculture's Food Safety and Inspection Service (USDA's FSIS) cautions in the Public Health Alert. When preparing a pig for a pig roast, FSIS reminds consumers to keep the four steps of food safety steps in mind: Clean, Separate, Cook, and Chill.
Start clean. Buy the pig from a reputable supplier who wraps it in plastic, or puts it in a large plastic bag to contain the juices. Keep the pig cold until it is time to cook it. If there isn't a way to keep it refrigerated or on ice, consider picking it right before it is time to cook it.
Separate the raw from the cooked. Any utensils used to prepare the uncooked pig should be washed with hot, soapy water before being used to serve the cooked pork.
Cook all pork products to a safe temperature. The only way to make sure s to use a food thermometer and cook them to an internal temperature of 145º F.
To read more, click HERE.