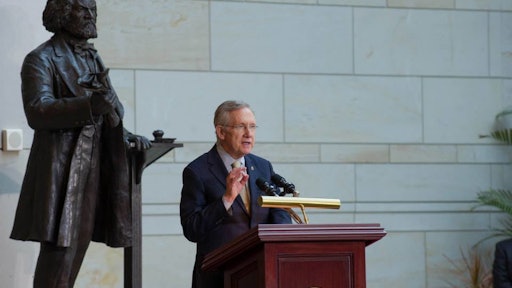 Senate Minority Leader Harry Reid (D-Nev.) urged Congress to fully fund the Food Safety Modernization Act (FSMA) in his remarks Tuesday on the floor of the U.S. Senate. "Unfortunately for many Americans, falling ill from contaminated food has become all too regular," Reid said.
Reid delivered the following remarks to condemn the effects of sequestration on the FSMA.
He described the experiences of Rylee Gustafson and Lauren Bush, both of whom became ill from E. coli in spinach in 2006.
Gustafson became ill two days after her ninth birthday. What started as just a pain in her stomach led to kidney failure, loss of vision, loss of hearing, and swelling around her brain and heart.
"What a sweet, sweet spirit," Reid said, looking at the picture of Gustafson on display beside him. "I've thought about her so often."
Bush was a junior in college when she ate the contaminated spinach. When she first got sick, she said she felt like she had the flu, but within four days, she was hemorrhaging.
Reid described the lasting effects the E. coli infection has had on Gustafson. She developed diabetes because of the damage to her pancreas and will need a kidney transplant before she turns 30.
To read more, click HERE.