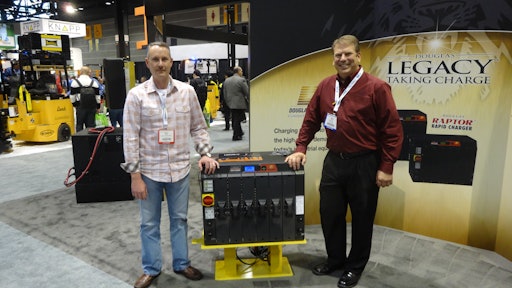 Chicago's McCormick Place South opened its doors Monday to more than 35,000 visitors to the annual Promat show sponsored by the Materials Handling Institute (MHI). Attendees perused more than 800 exhibits throughout the 340,000 square feet of exhibit space and participated in seminars on a range of topics tailored to materials handling topics on the first day of the show, which runs through Thursday. Attendee pre-registration surpassed the 2013 level, and this year's 340,000 square feet of exhibit space surpassed the 300,000 square feet in 2014, MHI officials noted.
MHI organizers noted the show's growth reflects an expanding industry driven by a recovering economy.
Following are some of the technologies on display at the trade show:
EnerSys is featuring its Enforcer Impaq high frequency modular chargers with intelligent charging and the flexibility to maintain peak efficiency at all times. The company is also showing its NexSys battery and charger system for burden carriers, stock chasers, floor care and cleaning machines, automatic guided vehicles and other industrial utility vehicles. Built with Thin Plate Pure Lead (TPPL) technology, NexSys batteries offer optimized cycling performance and rapid recharging that surpasses conventional gel or flooded lead acid batteries. Combined with the NexSys battery charger, the system is optimized for opportunity and fast charging.
Douglas Battery, which expanded its presence with a new, 750-square-foot booth for its batteries and chargers, is exhibiting its Raptor Rapid charger, a high-frequency, high-speed, fully-automatic, modular charger that can eliminate the need for battery changes. Offering high energy efficiency and a high power factor, the charger reduces operating costs while improving productivity.
Intelligrated is demonstrating its warehouse execution system (WES). The platform combines warehouse management, warehouse control and order fulfillment software functionalities to remove the silos of traditional warehouse systems and streamline order planning and fulfillment execution. It offers gate-to-gate visibility with real-time order statuses and enhanced decision support capabilities to keep operations informed and make adjustments at the speed of automation.
Dematic introduces a new suite of solutions for receiving, storage, order fulfillment, buffer staging, packing and palletizing. The solutions optimize manual processes in low volume operations as well as automated configurations for medium to high volume environments. Furthermore, the new suite of solutions is designed using a standardized and modular architecture to support rapid deployment, operational flexibility and expandability for the changing world of omnichannel commerce.
Retrotech is introducing a shuttle-based automated storage and retrieval (ASR) system specifically designed for the severe environments found in freezer warehouses, as well as new software solutions that can be tailored to customers' materials handling needs.
The new Retrotech PTS ASR system, which is new to North America and became commercially available in late 2014, is the third generation of this freezer product line. It is engineered and tested exclusively for customers looking to address the growing demand for order fulfillment at case — and less-than-case — quantities in frozen goods distribution centers.
AMETEK Prestolite Power introduces the TruBID lift truck battery charging system, which it notes is the first of its kind to answer the motive battery industry's biggest problem – how to accurately measure an undercharged battery so it can be properly recharged. According to Jim Lichtenberg, business manager for AMETEK Prestolite Power, "TruBID is able to accurately measure the specific gravity of the electrolyte in the battery, the only truly accurate way to determine the state of charge of any battery and ensuring a full recharge every time."
Yale Materials Handling Corp. announces its MPB045VG walkie pallet truck with the first commercially available Underwriters Laboratories (UL) recognized, lithium-ion battery pack in the forklift industry. With an extended run time, excellent charging capabilities and small footprint, the new lithium-ion battery offers an efficient and productive power alternative for retail, beverage and food delivery applications. The new lithium-ion option is designed to last up to five times longer than traditional lead acid batteries, reducing downtime and battery replacements, and is backed by a 5-year warranty. Unlike lead acid batteries, lithium-ion technology does not experience the sulfation effects during short charging and extended storage.
Hyster Co. showcases its robust range of engines featuring Hyster Variable Power Technology, a feature that comes standard with the selected engine offering. This technology provides adjustable performance modes that allow customers to maximize productivity or fuel economy to fit their specific application requirements. Hyster Variable Power Technology offers the ability to achieve a balance of enhanced performance and superior fuel economy or to maximize productivity during peak business periods.
ASSA ABLOY Entrance demonstrates the latest features, benefits and tailored applications for its yard and dock management system. Designed to eliminate the common and most often, costly logistics problems around the yard and loading dock, 4SIGHT uses real time and physical data to assist facilities in efficiently managing operations such as loading dock visibility, live and staged trailer coordination and turn time management. The system integrates loading dock equipment with intelligent software to monitor, communicate and manage loading dock status helping companies avoid detention charges, product spoilage costs, employee accidents and more.
Lightning Pick's new MW Series pick-to-light module offers amplified performance, flexibility, durability and power efficiency to new or existing pick-to-light users. The device is designed, engineered and manufactured by Lightning Pick, a Matthews Automation Solutions' brand. It is compatible with all current Lightning Pick installations and software.
Automated Packaging Systems introduces its most advanced bag packaging system – the Autobag 850S Mail Order Fulfillment Bagger. The Autobag 850S marries state-of-the-art engineering and superior ergonomics to create a mail order fulfillment system with a small footprint that is easy to use and safe. The company notes Autobag 850S runs mail bags up to 22 inches wide – two inches wider than any other fulfillment bagger on the market today.