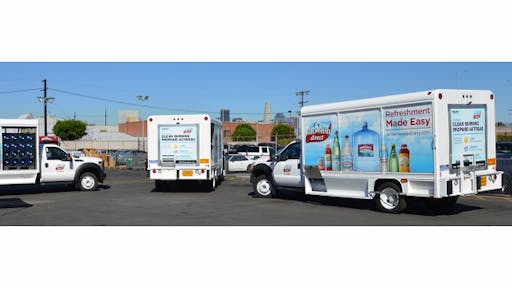 Five medium-duty beverage trucks fueled by clean-burning, affordable propane autogas will begin operation today at Nestlé Waters North America's Los Angeles location. The trucks will deliver Arrowhead® Mountain Spring Water to area businesses and residents.
The reasons cited for the purchase of the propane autogas trucks include an alternative fuel system that maintains full factory warranty, the ease of fueling, the low infrastructure cost and the unexpected benefit of lower electricity costs. They currently operate over 2,000 trucks throughout the nation that are primarily fueled by diesel.   
"Nestlé Waters North America is committed to delivering customers drinking water with reliable, innovative and efficient green transportation solutions," said Bill Ardis, fleet manager for Nestlé Waters North America. "Like many, we are evaluating the different technologies that offer savings over the life of the vehicle and realized that propane autogas is a smart choice for reducing fuel and maintenance costs while providing cleaner air for the community."
The Nestlé Waters Los Angeles location currently utilizes on-site refueling for their diesel powered trucks. They have chosen to continue this practice by adding an on-site propane autogas fueling station. Autogas infrastructure is less expensive to install than all other transportation fuels — conventional or alternative. On average, autogas costs up to 50 percent less than diesel.
"Fueling beverage delivery trucks with propane autogas offers the best total cost of ownership, without compromising standard delivery procedures," said Todd Mouw, vice president of sales and marketing for ROUSH CleanTech. "By choosing this safe, abundant and American-made fuel, fleets around the nation are reducing their operating costs and lowering their carbon footprint." 
Nestlé Waters purchased the medium-duty chassis from Midway Ford and upfitted the vehicle with a side load beverage body at Mickey Body, located in High Point, North Carolina. Each unit is equipped with a California Air Resources Board and Environmental Protection Agency-compliant ROUSH CleanTech propane autogas fuel system that provides a 45-usable gallon fuel tank.